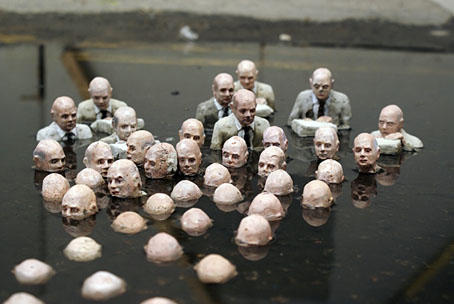 Follow the Leader (London, 2011) by Isaac Cordal.
• "Brutalism is the decor of dystopian films, literature and comics, just as gothic is for horror." Jonathan Meades' A-Z of brutalism.
• Vitaly Shevchenko on the urban explorers of the ex-USSR. Related: Photos by Vitaliy Raskalov from the top of the Shanghai Tower.
• Joe Banks reviews the throbbing, hissing, minatory pulses of the Black Mill Tapes 1–4 by Pye Corner Audio.
Walter Benjamin is the only one among the commentators who attempts to pin down the anonymous, evanescent quality of Walser's characters. They come, he says, "from insanity and nowhere else. They are figures who have left madness behind them, and this is why they are marked by such a consistently heartrending, inhuman superficiality. If we were to attempt to sum up in a single phrase the delightful yet also uncanny element in them, we would have to say: they have all been healed." Nabokov surely had something similar in mind when he said of the fickle souls who roam Nikolai Gogol's books that here we have to do with a tribe of harmless madmen, who will not be prevented by anything in the world from plowing their own eccentric furrow.

Le Promeneur Solitaire: WG Sebald on Robert Walser
• Drink The New Wine, an album by Kris Force, Anni Hogan, Jarboe, Zoe Keating and Meredith Yayanos.
• At 50 Watts: Illustrations by Fortuné Méaulle for Alphabet des Insectes by Leon Becker.
• Lawrence Gordon Clark, Master of Ghostly Horror. An interview by John D'Amico.
• Chapel Perilous: Notes From The New York Occult Revival by Don Jolly.
• Mix of the week: Secret Thirteen Mix 107 by Ernestas Sadau.
• An Occult History of the Television Set by Geoff Manaugh.
• Was Ist Das? The Krautrock Album Database.
• First dérive of the year by Christina Scholz.
• John Waters' Youth Manifesto.
• Water Music I / Here Comes The Flood / Water Music II (1979) by Robert Fripp & Peter Gabriel | After The Flood (1991) by Talk Talk | Flood (1997) by Jocelyn Pook