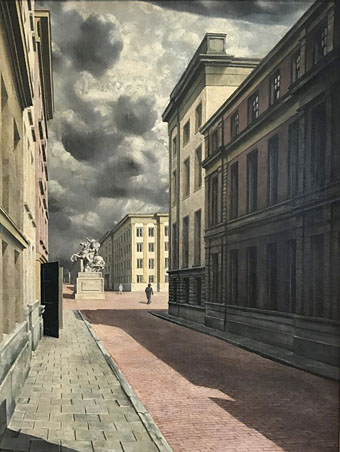 Straat met standbeeld (1934) by Carel Willink.
• "[Edward] Gorey, who died in 2000 at 75, was the unequaled master of—of what? Gothic whimsy? The high-camp macabre? Existential black comedy in the Firbankian mode? Essentially unclassifiable, he was, at the end of the day (and it's always twilight, in Gorey's stories), simply, inimitably Edwardian." Mark Dery's Born to be Posthumous: The Eccentric Life and Mysterious Genius of Edward Gorey, the first full-length biography, will be published in November.
• "In an East Prussian manor house, a Bohemian library, a Bulgarian railway station; in a Venetian citadel, a Breton harbour, a city in the Caucasus, characters encounter not only the vicissitudes of history but also the subtle influences of the uncanny." Inner Europe by John Howard and Mark Valentine.
• "To the good men I offer the hand of friendship, to the foes of our sex I offer resistance and annihilation!" The next title from Rixdorf Editions (due in November) will be We Women Have no Fatherland (1899), a novel by Ilse Frappan.
• At Dangerous Minds: "The career of Penny Slinger, intrepid surrealist artist of the 1970s, is ripe for rediscovery," says Martin Schneider.
• Mixes of the week:  FACT mix 668 by Smerz, and XLR8R Podcast 557 by re:ni.
• Dreaming of Walter Benjamin on Walter Benjamin Platz by Roger Gathman.
• Alison Kinney on Ludwig II's obsession with the operas of Richard Wagner.
• A trailer for The Other Side of the Wind, the final film by Orson Welles.
• A happy tenth anniversary to The Quietus.
• Wizards (1982) by JD Emmanuel.
• The Wizard (1964) by Albert Ayler Trio | The Wizard (1970) by Black Sabbath | Dancin' Wizard (1973) by Sopwith Camel