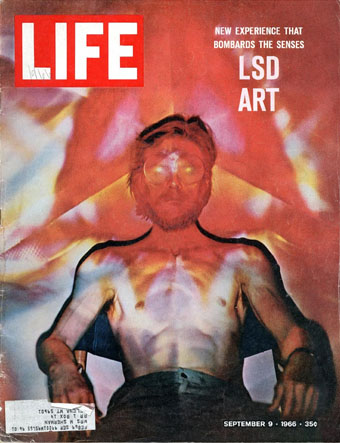 LIFE, September 9th, 1966. Photo by Yale Joel.
Continuing the psychedelic mega-mix based on Jon Savage's list of "100 mind-expanding masterpieces" (see this post). The fourth of the six mixes is the first visit to the USA, with songs from the years 1965 to 1967 arranged in mostly chronological order. As before, the selections from the Savage 100 are in bold, and I've added notes about my additions or amendments.
US psychedelia differs from the UK variety in its origins—there's often a country or folk influence where British bands tended to be working from a background of R&B—and in the political reality that lurks underneath the spaced-out sentiments. UK psychedelia can be whimsical to a degree that tips into childishness, the stakes are often nothing more serious than the risk of being busted for illicit drug use; America was a nation at war overseas and at home, with riots and assassinations forming a backdrop to many of these songs. Kaleidoscope's Keep Your Mind Open sounds like it might be a typical plea for freer thinking but the lyrics address the war in Vietnam, and the song fades out to the sounds of gunfire.
US Psychedelia, Part One by Feuilleton on Mixcloud
Radio ad — Psych Out
The Byrds — Eight Miles High (first version)
The Charlatans — Alabama Bound
Jefferson Airplane — Blues From An Airplane
Country Joe & The Fish — Section 43
Great Society — Someone To Love
Captain Beefheart & His Magic Band — Electricity
Oxford Circle — Foolish Woman
The Vejtables — Feel The Music
The 13th Floor Elevators — Slip Inside This House (The Savage 100 has Roller Coaster but I got hooked on the momentum of this one—which is actually from 1968—via a compilation.)
The Count Five — Psychotic Reaction
The Magic Mushrooms — It's-A-Happening (One of the outstanding numbers on the original Nuggets compilation.)
The Sons Of Adam — Feathered Fish
Love — 7 & 7 Is
The Beach Boys — Good Vibrations
Sopwith Camel — Frantic Desolation
The Doors — Crystal Ship
The Seeds — Mr. Farmer
Kaleidoscope (US) — Keep Your Mind Open
Radio ad — Vox Wah-Wah Pedal
The Electric Prunes — I Had Too Much To Dream Last Night (Savage has Get Me To The World On Time but this is one of my favourite psych songs of all.)
Mystery Trend — Johnny Was A Good Boy
The Moving Sidewalks — 99th Floor (The first single by a band featuring ZZ Top's Billy Gibbons.)
Moby Grape — Omaha
Previously on { feuilleton }
• Listen to the Colour of Your Dreams: Part Three
• Listen to the Colour of Your Dreams: Part Two
• Listen to the Colour of Your Dreams: Part One
• What Is A Happening?
• My White Bicycle
• Ogdens' Nut Gone Flake
• Tomorrow Never Knows
• The Dukes declare it's 25 O'Clock!
• A splendid time is guaranteed for all