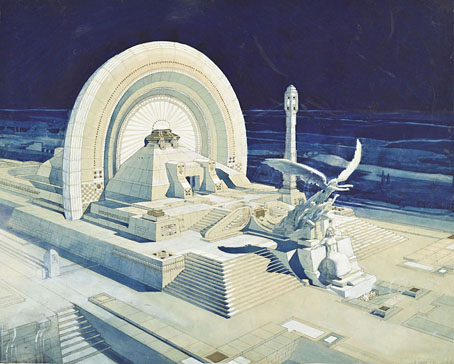 Projet onirique (tombeau pour un poète) (1901) by Henry Provensal.
• "20 years later, Sexy Beast remains something of an oddity…It offers a deconstruction of the genre, which is then reconstructed to marry the unhinged, convulsive beauty of surrealism with sturdy, universal storytelling." Thomas H. Sheriff looks back at Jonathan Glazer's debut feature.
• Blau Gers, a new piece by The Alvaret Ensemble: Greg Haines (piano), Jan Kleefstra (voice, poems), Romke Kleefstra (guitar, bass and effects) and Sytze Pruiksma (percussion).
• Wendy Carlos: A Biography by Amanda Sewell, the first study of the life and work of the electronic composer, is out in March.
The prejudice against writing sex in Anglo-American literature is something that utterly baffles me. What a bizarre thing it is to claim that this central, profound territory of human life is off-limits to literary or artistic representation. Sex seems to me one of the densest and most intense human phenomena, one of the things I find it hardest to think about—and so something I want to think about in art. The biggest surprise to me about the reception of my first book—other than the fact of there being any reception at all—was how much discussion there was about the sex in it. There isn't very much sex in it! It said something about the culture of mainstream publishing in America in 2016 that a novel with maybe three or four pages of explicit sex between men could seem surprising.

Garth Greenwell talking to Ilya Kaminsky about literature and life
• Some (but not all) of the museums of Paris have made thousands of artworks available for free online.
• The Work of Fate: AS Hamrah introduces a screening of Jean Cocteau's Orphée.
• La Labyrinthèque: Histoire de l'art jouissive & enchantements littéraires.
• Clive Hicks-Jenkins on the art of the (book) cover.
• Tom Huddleston on 10 great stressful films.
• At Dennis Cooper's: Malcolm Le Grice Day.
• François de Nomé's Imaginary Ruins.
• Sexy Sadie (1968) by The Beatles | Sexy Photograph (1995) by Ui | Sexy Boy (1998) by Air