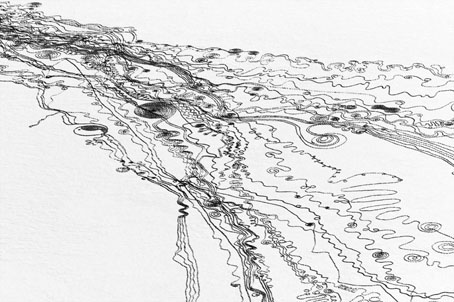 We Are The Water – Snow Drawings Project, Colorado (2014) by Sonja Hinrichsen with 50 volunteers.
• I don't do end-of-year lists but Dennis Cooper does. My thanks to Dennis once more for including this blog among his selections. Also there is Jonathan Glazer's film of Under the Skin, an adaptation of Michel Faber's novel that impressed me as the most insidiously disturbing thing I've seen since Mulholland Drive. The Guardian's film critics agreed, making it their film of the year. I'd add to Peter Bradshaw's appraisal by noting the superb score by Mica Levi, the refusal to spoon-feed the audience with explanations, and a refreshing absence of Hollywood gloss. Glazer's film, like Kill List before it, shows that mundane British streets and interiors can still be a setting for serious horror.
• Related to the above: "I like Caravan, Coil—it's very sad that they're both dead now. In fact, Peter Christopherson, who was leader of Coil, contributed a song to a CD which I made for my wife for what we believed would be her last birthday." Michel Faber talks to Hope Whitmore about Under the Skin and his new novel, The Book of Strange New Things. M. John Harrison recommends the latter on his own end-of-year list. In January Black Mass Rising will release a recording of The Art of Mirrors, Peter Christopherson's homage to Derek Jarman from 2004.
• David Bowie and band live on Musikladen in 1978: 40 minutes with Adrian Belew on squealing lead guitar, some Kurt Weill and an outstanding performance of "Heroes".
• "Realism is a literary convention – no more, no less – and is therefore as laden with artifice as any other literary convention." Tom McCarthy on realism and the real.
• Mixes of the week: The Best of the Best of the Best by TheCuriosityPipe, and Secret Thirteen Mix 138, a medley of post punk from Psyche.
• "We spent two weeks making the penises." Livin' Thing: An Oral History of Boogie Nights by Alex French and Howie Kahn.
• At Dangerous Minds: Seeing The Man Who Fell to Earth was one of the greatest experiences of Philip K. Dick's life.
• Giving Voice to Our Pagan Past and Present: Pam Grossman on Witches, Women and Pop Occulture.
• Neglected last week (and linked everywhere but still a good one): The typography of Alien.
• William Mortensen, the photographer who Ansel Adams called the Anti-Christ.
• Hear a track from analogue synthesizer virtuoso Kaitlyn Aurelia Smith.
• Rick Poynor on illustrations by Bohumil Stepan for Crazy Fairy Tales.
• 12 excellent features from directors who never made another feature.
• Werner Herzog Inspirationals
• New Warm Skin (1980) by Simple Minds | Rapture Of The Skin (1996) by Paul Schütze | Take Me Into Your Skin (2007) by Trentemøller