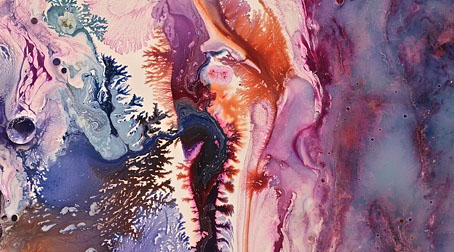 Still of an Alive Painting by Akiko Nakayama.
• "In what is a cross between performance art and installation, Nakayama uses a multitude of kitchen basters loaded with paint and water to add, mix, tilt, blow and add all sorts of extraneous effects to her paints, recording and projecting it all onto a large screen." Continuously Changing "Alive Paintings" by Akiko Nakayama. There's more performance video at the artist's website.
• In January 2018 Song Cycle Records (UK) release Solaris, a "Collector's Edition" of the Tarkovsky film and its soundtrack comprising vinyl/CD, blu-ray (no region details) and a book of photos, artwork and essays.
• Steve Davis may no longer be a snooker player but he's still a Magma obsessive. This week he reviewed the new Retrospektiw collection for The Quietus.
What I was most thankful to TG for was leading me to Christopherson's later band Coil with his partner, antagonist and lover John Balance (after they'd met in Genesis' Psychic TV) whose music I fell for even harder. The arcane and homoerotic tragicomedy that underpinned their discography (and relationship) propelled me into new states, years before any first hand knowledge of the drug experiences they managed to intertwine so artfully with their music. Records like Scatology and Horse Rotorvator sexualised the male body for me for the first time—an awakening that's hard not to find some amusement in when soundtracked by a romp called The Anal Staircase. From afar it seemed like their intense, exploration of electronic music as ritual was only possible as a result of the depth of the duo's personal relationship and how it manifested spiritually, chemically and physically. The posture and machismo of the modern guitar music I listened to (and performed) with my friends could be tiring. The sound of Coil became a safe space in which to fantasise about manhood and Englishness and what it really meant, helping dismantle clichés I'd come to accept as reality. From medieval hymns to acid-house their music was unafraid and total. Though hard to define with any particular release I often play people their funereal takes on Tainted Love (of which all profits went to the Terrence Higgins Trust—a musical first in 1985 while AIDS was still very much taboo) and the Are You Being Served? theme tune, the basis of their transformative final track Going Up, completed by Christopherson after Balance's death.

Fred Macpherson writing about Throbbing Gristle and Coil at new site The Queer Bible. This is the first appraisal of Coil I've seen on any site devoted to gay/queer issues, over ten years after the band expired following the death of John Balance. Better late than never, I suppose.
• Tom Phillips is helping support the National Campaign for the Arts by reworking a page of A Humument as a series of designs at CafePress.
• At Strange Flowers: The Secret Satan book list, a welcome alternative to the lists that fill the broadsheets at this time of year.
• Mixes of the week: Stephen O'Malley presents Acid Quarry Paris—A Hypnosis, and XLR8R podcast 517 by Davy.
• At the Internet Archive: 183 copies of Video Watchdog magazine (1990–2017).
• The TLS interview: Twenty Questions with M. John Harrison.
• At Unquiet Things: The solving of a family art mystery.
• txt.fyi
• The Hills Are Alive (1995) by Coil | Everyone Alive Wants Answers (2003) by Colleen | Only Lovers Left Alive (2014) by Jozef Van Wissem