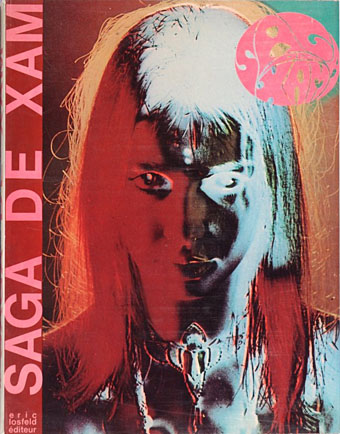 Saga de Xam, a large-format comic book published by Éric Losfeld in 1967, is another example of French erotic psychedelia that remained off my radar until I got my hands on the exhibition catalogue for the Musée d'Orsay's Art Nouveau Revival show in 2010. The glorious drawing below was used as the background for the exhibition poster, and appeared inside the catalogue with two more pages from this rare and sought-after book, described in the catalogue as "the best and most precocious example of French BD directly inspired by American psychedelia".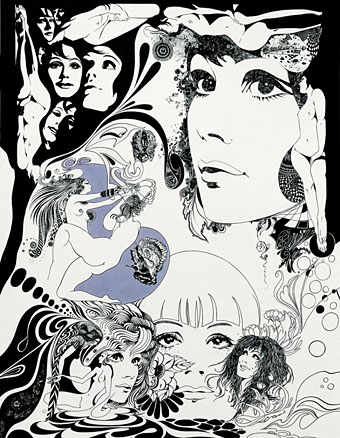 Éric Losfeld is a fascinating character, a kind of pop-culture equivalent of Maurice Girodias, the founder of Olympia Press. Both men published erotic novels, and both had problems with the authorities as a result; but Losfeld also found a niche in art and graphics, producing albums of erotic comic strips—Jean-Claude Forest's Barbarella, Guy Peellaert's Jodelle and Pravda, Guido Crepax's Valentina, Philippe Caza's Kris Kool—and lavish portfolios from the weirder end of the erotic art spectrum, showcasing work by Raymond Bertrand, Jean-Marie Poumeyrol and others. It's common for Brits to consider France a more enlightened nation where sex and comic-art is concerned but in the 1960s comics in France were considered an unsuitable medium for sexual material. Many of Losfeld's comic-books of the late 60s and early 70s endured the kind of censure that was occurring in Britain and elsewhere. An early non-erotic title was Lone Sloane: Mystère des Abîmes in 1966, the first Lone Sloane story by Philippe Druillet. This no doubt explains Druillet's involvement with Saga de Xam a year later.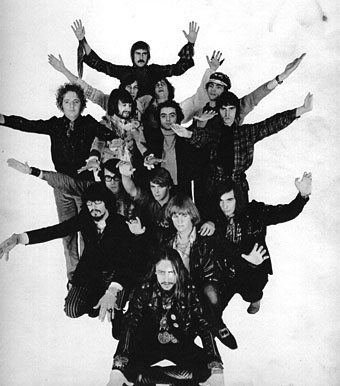 Saga de Xam: les créateurs.
The comics by Forest, Peellaert and Crepax all featured attractive (often naked) woman as their lead characters. Saga de Xam continued the trend, a story in seven chapters that reads like an amalgam of all the comics Losfeld had published up to that point, Druillet included. The book is credited to Nicolas Devil, and based on a scenario by film director Jean Rollin. (Druillet would later design some posters for Rollin's vampire films.) Devil, aka Nicolas Deville, was one of Rollin's art directors who also worked for a time as a comic artist and illustrator. For Saga de Xam Devil was the principal artist in the first six chapters, and wrote most of the text and dialogue. In the final chapter other hands are involved: Jim Tiroff, an actor from Julian Beck's Living Theatre, provided a poem in English, while the artwork is an unusual exercise in the Surrealist "Exquisite Corpse" technique with Devil, Druillet and several other artists—Barbara Girard, Merri, Nicolas Kapnist—collaborating on a series of improvised splash pages. The final chapter also features arrangements of text that resemble layouts from avant-garde art magazines. Druillet's contributions are easy to identify since they resemble invasions from his Lone Sloane series, even including references to the Necronomicon.