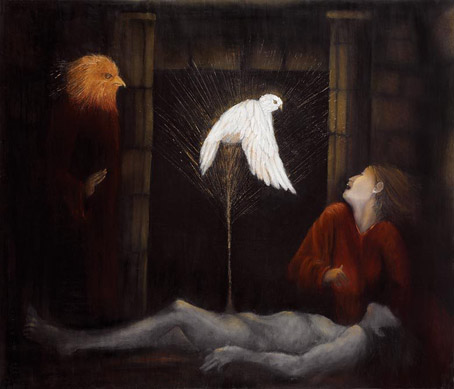 Hades II (2004) by Ana Maria Pacheco.
• I've been reading a lot of Angela Carter over the past few weeks so the news of her house in Clapham being awarded a blue plaque was coincidental but also timely. Related: Angela Carter Online, and The Holy Family Album (1991), "a sacrilegious take on the history of Christian painting and iconography" written and narrated by Carter. Also, we're still some distance from Halloween but take this as a precursor: Vampirella (1976), Angela Carter's first radio play for the BBC, starring Anna Massey as a vampire countess.
• In May this year the Dark Entries record label announced the discovery of more tapes from Patrick Cowley's pre-disco years in the 1970s. A selection from the archive, Mechanical Fantasy Box, will be released next month, together with a book of the same name reprinting Cowley's homoerotic journal from the period.
• More Magma (there's always more Magma): Warren Hatter on 7 essential albums from their sprawling discography. Related: Magma on film in 1972, appearing in Moi y'en a vouloir des sous, a short but typically intense performance.
• Out in November: Paul Wegener's adaptation of Gustav Meyrink, Der Golem, wie er in die Welt kam (1920), receives a substantial blu-ray release from Eureka.
• Joe Banks' forthcoming space-rock exegesis, Hawkwind: Days of the Underground, now has its own website.
• Mix of the week: The Stations Of Summer by Cafe Kaput.
• Photos of London's abandoned Underground stations.
• At Dennis Cooper's: Alan Boyce grows invisible.
• Gudrun Gut's favourite albums.
• Tanz Der Vampire (1969) by The Vampires Of Dartmoore | Ketch Vampire (1976) by Devon Irons | Vampires (1999) by Pet Shop Boys