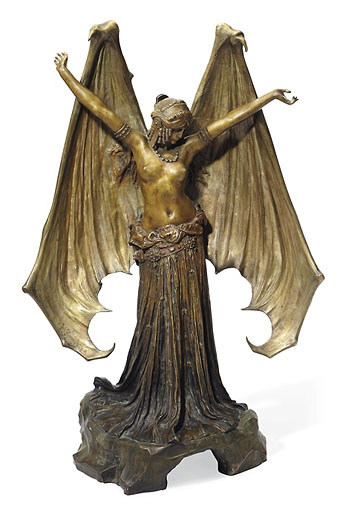 Le Vampire (c. 1903) by Agathon Léonard. Via Beautiful Century.
• Two masters of rumbling atmospherics interviewed at The Quietus: Bobby Krlic aka The Haxan Cloak talks to Maya Kalev while Thomas Köner talks to Joseph Burnett.
Discussions about the arts now have an awkward, paralyzed quality: few judgments about the independent excellences of works are offered, but everyone wants to know who sat on the jury that gave out the award. It's become natural to imagine that networks of power are responsible for the success or failure of works of art, rather than any creative power of the artist herself.

We've reached the point at which the CEO of Amazon, a giant corporation, in his attempt to integrate bookselling and book production, has perfectly adapted the language of a critique of the cultural sphere that views any claim to "expertise" as a mere mask of prejudice, class, and cultural privilege.

Too Much Sociology, an essay by The Editors at n+1
• Prints of Karl Blossfeldt's plant portraits can be seen at the Whitechapel Gallery, London.
• Stephen J. Gertz on Samuel Roth, "The Most Notorious Publisher In American History".
• Max Beerbohm is Cranky: Mary Mann on the appeal of the curmudgeon.
• Travel brochure graphics: Graphic design from the 1920s to the 1970s.
• Still returning to its constituent components: Chernobyl's ghost town.
• Thoughtless Grin: a new Arthur Mixtape
• Richard Williams: the master animator
• Ketch Vampire (1976) by Devon Irons | A Vampire Dances (Symmetry) (1988) by Jon Hassell with Farafina | Vampires (1999) by Pet Shop Boys