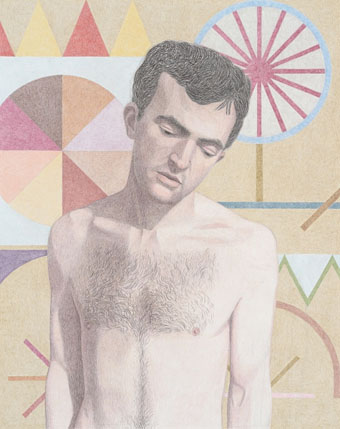 Bachelor with "demons" (Sleezy) [sic] (2015) by Elijah Burgher. One of a new series of artworks by Burgher showing at Zieher Smith & Horton, NYC.
• The week in HR Giger: Belinda Sallin on her documentary, Dark Star: HR Giger's World; Ron Kretsch on the unseen cinema of HR Giger; Matthew Cheney thinks the Gigeresque has become too familiar. I can see his point but originality is always in short supply; asking for something new means setting yourself up for a long wait.
• Pwdre ser, or Star jelly, is "a pale, foul-smelling jelly traditionally associated with meteorite falls". The Rot of the Stars at the ICA, London, is an audio-visual art collaboration between Jo Fisher and Mark Pilkington dealing with the mysterious substance.
• Mixes of the week: A Tri Angle Records birthday DJ set by Björk; OreCast 196 mix by Ilius; Secret Thirteen Mix 153 by M!R!M.
To assume that a given group of people would be similar because of birthdate, Ryder thought, was to risk committing a fallacy. "The burden of proof is on those who insist that the cohort acquires the organised characteristics of some kind of temporal community," he wrote. "This may be a fruitful hypothesis in the study of small groups of coevals in artistic or political movements but it scarcely applies to more than a small minority of the cohort in a mass society."

Generational thinking is a bogus way to understand the world says Rebecca Onion
• The plan for an airport above the streets of Manhattan. Related: Charles Glover's similar plan for London.
• Errol Morris on how typography shapes our perception of truth.
• Michael Moorcock enjoyed The Vorrh, a novel by Brian Catling.
• Clive Barker on almost dying, hustling, and killing Pinhead.
• A new Penguin Books website for Angela Carter.
• Callum James on artist Philip Core.
• A Beginner's Guide to King Tubby
• King Tubby Meets Rockers Uptown (1976) by Augustus Pablo | Star Cannibal (1982) by Hawkwind | Sleazy (1983) by Jah Wobble, The Edge, Holger Czukay