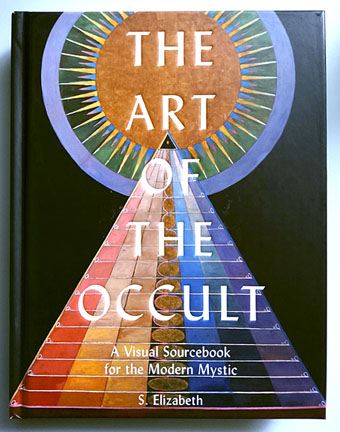 Cover art: Group X, No. 1, Altarpiece (1915) by Hilma af Klint. Design by Paileen Currie.
A surprise arrival in today's post, the occult art compendium by S. Elizabeth which I would have wanted to read even if it didn't contain one of my pictures:
From theosophy and kabbalah, to the zodiac and alchemy; spiritualism and ceremonial magic, to the elements and sacred geometry – The Art of the Occult introduces major occult themes and showcases the artists who have been influenced and led by them. Discover the symbolic and mythical images of the Pre-Raphaelites; the automatic drawing of Hilma af Klint and Madge Gill; Leonora Carrington's surrealist interpretation of myth, alchemy and kabbalah; and much more.
Most of the books I've seen on this subject have either been very general and in need of an update (Thames and Hudson's venerable Magic: The Western Tradition) or exhibition catalogues which are never comprehensive and become increasingly hard to find since they don't get reprinted. The Art of the Occult is an ideal introduction to the subject for the curious reader, as well as being a useful overview for the aficionado (or initiate) which spans several hundred years of art and illustration, from the earliest occult manuscripts to contemporary works. Occult art is a house with many mansions, a form which can encompass photo-realism, Symbolism, Surrealism or total abstraction without the definition breaking down. The Art of the Occult contains a satisfyingly wide range of examples, 200 in all, and includes many artists whose work I hadn't seen before. It also reinforces the origin of abstract art in occult concerns, a lineage that went unmentioned for many years by critics who couldn't accept that their beloved "pure" idiom was tainted by mysticism.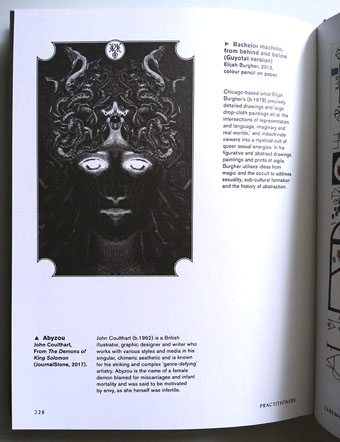 My piece is a portrait of the serpent-haired Abyzou, one of the Solomonic demons I depicted for The Demons of King Solomon in 2017. The picture was one of the better representations in a series I would have preferred to have more time to work on. I was pleased to see my contribution facing one of Elijah Burgher's sigil drawings; I like Burgher's art so he makes a good companion. This is the first and maybe the only book where my name is listed in an index between Pamela Colman Smith and Aleister Crowley.
The Art of the Occult will be published by White Lion Publishing on 13th of October, just in time for the annual spook-fest.
Update: Haute Macabre has a new post by S. Elizabeth showing more pages from the book's interior plus the opportunity to win a copy.
Previously on { feuilleton }
• Calendrier Magique
• The Demons of King Solomon
• Typefaces of the occult revival
• The art of Frieda Harris, 1877–1962
• The art of Fay Pomerance, 1912–2001
• Songs for the Witch Woman
• Wilfried Sätty: Artist of the occult
• The art of Scott Treleaven