Le Petit Journal, June 16, 1912. Via Beautiful Century.
• Occult art by Nicomi Nix Turner, Daniel Martin Diaz, Amy Earles and William Crisafi. Related: Illustrations by Ernest M. Jessop for The Witches Frolic by Thomas Ingoldsby.
• "Our definition of 'Industrial' then was a very broad one, it's definitely not so much now." Chris Carter & Cosi Fanni Tutti on 20 Jazz Funk Greats by Throbbing Gristle.
• At Dangerous Minds: the Amok Assault Video (1988), an hour of the bizarre, the extreme and the outré which will probably get yanked from YouTube before too long.
I've always thought the exchange of words for money is no more and no less problematic than any other kind of prostitution—and it's important that we prostitutes control a certain amount of our production (and reproduction, for that matter). If I'm writing a book and I'm warned, "Oh, this is unsaleable, you need to make it shorter," or, "It has to be this, or that," I'm proud to say I don't pay attention.

Though this is becoming more difficult. As large publishers turn into monopolies, and the MBAs who are running them—maybe editors used to run them before—are steadily tightening the screws, they feel more and more that they get to call the shots.

Writers can do anything, says William T. Vollmann
• Mixes of the week: Over two hours of Coil and other artists sequenced by Surgeon, and Secret Thirteen Mix 122 by DJ Skirt.
• Alan Moore calls for a boycott of the "wretched" new Hercules film on behalf of his friend Steve Moore.
• Joe Orton's first play, Fred and Madge, will receive its world premier in September.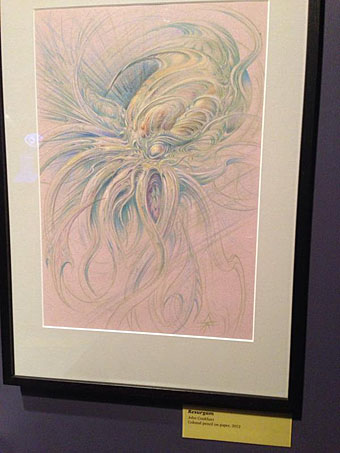 Ned Raggett found the drawing of mine that's part of the Tentacles exhibition currently showing at the Monterey Aquarium, California. Thanks, Ned! There's a sepia-toned version of the drawing in my Cthulhu calendar.
• "Weird is a wayward word," says Erik Davis in an exploration of weirdness old and new.
• More details about the forthcoming Scott Walker + Sunn O))) collaboration.
• A trailer for a reissue of Robert Wiene's The Cabinet of Dr. Caligari (1920).
• A history of sex toys in pictures.
• Octopus's Garden (1969) by The Beatles | The River (1970) by Octopus | Octopus (1970) by Syd Barrett