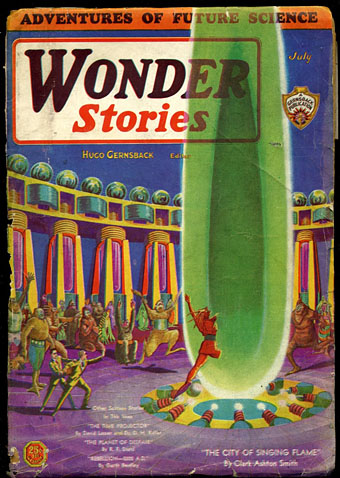 Wonder Stories, July 1931. Illustration by Frank R. Paul.
Looking over Bruce Pennington's artwork this week sent me back to some of my Clark Ashton Smith paperbacks, many of which sport Pennington covers. One of my favourite Smith stories, The City of the Singing Flame, is also one of his finest pieces, and a story that Harlan Ellison has often referred to as his favourite work of imaginative fiction.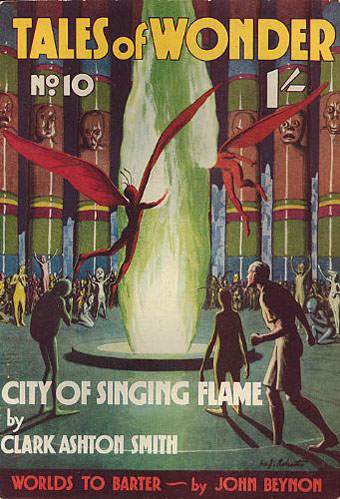 Tales of Wonder, Spring 1940. Illustration by WJ Roberts.
The story as it's known today was originally a shorter piece, The City of the Singing Flame, followed by a sequel, Beyond the Singing Flame; both stories were published in Wonder Stories magazine in July and November of 1931, then as one in Arkham House's CAS collection Out of Space and Time in 1942. The two-in-one story is now the definitive version.
Smith's tale concerns the discovery of a dimensional portal somewhere in the Sierras. Beyond this there lies a path leading through an otherworldly landscape to a colossal city peopled by a race of mute giants. A temple at the heart of the city protects the prodigious green flame of the title, an eerie and alluring presence whose siren call draws creatures from adjacent worlds who prostrate themselves before the flame before immolating themselves in its fire. A narrator, Philip Hastane, give us details of diary entries from a friend who discovered the portal, and who subsequently has to decide whether to resist the lure of the mysterious flame or follow the other creatures into the fire. More than this would be unfair to divulge if you've never read Smith's remarkable piece of fiction.