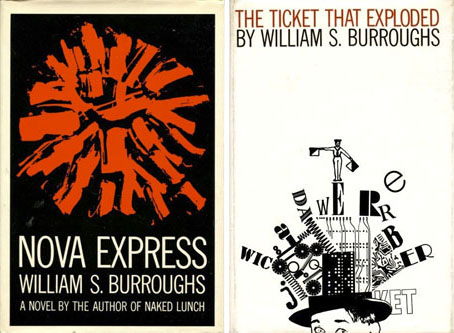 Two Grove Press covers by Roy Kuhlman. From Arden Kuhlman Riordan's Pinterest page collecting her father's cover designs.
• "When people asked me what boylesque was, I'd say I'm doing burlesque and I have a penis," said Mr. Ferguson.
• Sequence5: 42 tracks of new, atmospheric/ambient music. A free download in a variety of formats.
• The trailer for Jimmy's End, the forthcoming film by Alan Moore and Mitch Jenkins.
As a porn performer, I can say from experience and with confidence that I've never been objectified by other performers. Nor have I been objectified by viewers. At least not in a way that seemed to confuse them into thinking I was an object. What happens instead is that I shift in and out of object-hood. Athletes do this too—they engage with their bodies for a specific task. At the end of the game or the shoot, the context changes.

Conner Habib on The Virtues of Being an Object
• Secret Weapons (1972), David Cronenberg's lost TV movie resurfaces.
• Joseph Burnett reviews Nude, the new album by The Irrepressibles.
• Over a third of e-readers are used just once before being set aside.
The guarded, the cautious, the small-scale, the modest, the well-crafted—such books may be rewarded (in our own time, at the national level), but they are rarely preserved. They are not preserved because guardedness, caution, smallness, modesty, and craft can be replaced in any given generation. What is irreplaceable is excess: Of verbal kinesis, religious intensity, intellectual voracity.

Amit Majmudar on Entertainment and Excess: The Great Literary Audiences
• Miniature Book Interviews with Louis Wain Bound by Hand.
• A Tour Inside Salvador Dalí's Labyrinthine Spanish Home.
• Horror fiction should be deep, not cheap, says Nina Allan.
• RIP Peter Kuhlmann aka Pete Namlook
• More is More by Alex Trochut
• Lost In The Sea (1992) by Sequential (Pete Namlook & DJ Criss) | Angel Tech (1994) by Bill Laswell & Pete Namlook | Yenlik (Part II) (1996) by Burhan Öçal & Pete Namlook