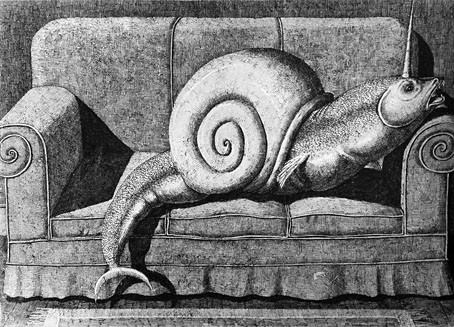 A drawing from Bestiario Moderno by Domenico Gnoli (1933–1970).
RIP Russell Hoban. Nina Allan celebrates a favourite writer while David Mitchell, writing in 2005, pays tribute to Riddley Walker. For me the gulf between Hoban and many of his contemporaries could be measured by his entry in the Writer's Rooms feature the Guardian Review was running for a couple of years: Hoban's room was the only one that admitted to being cramped and chaotic.
A wristwatch could be "a tiny flowering hell, a wreath of roses, a dungeon of air" and still tell time. A short story could take the shape of an instruction manual for the most routine of tasks (crying, singing, winding said dungeon, killing ants in Rome), or a compendium of tales about fantastical but oddly familiar species. A novel didn't have to progress from the first page to the last, hung on a rigid skeleton of plot: it could proceed in oblong leaps and great steps backward, like a game, say, of hopscotch. "Literature is a form of play," said Cortázar. […] It is perhaps because he so stubbornly resists categorization, as much as for the ludic complexity of his work, that Cortázar is in these parts more admired than he is read. The Anglophone literary imagination (or perhaps just its material substrate: the market) appears to have room for only one Latin American giant per generation—Borges, García Márquez, the freshly beatified San Bolaño. Cortázar was too weird, too difficult, too joyously slippery to make the cut.

Eels Über Alles: Ben Ehrenreich on Julio Cortázar
• Alfred Jarry is another writer the Anglophone world has often found "too weird, too difficult". Jarry has been dead for over a century but Alastair Brotchie's recently-published full-length biography is the first such work in English. Mark Polizzotti reviews a life of "the poster boy for literary cult figures" at Bookforum.
• "A Beautiful Trip": Frances Morgan interviews David Lynch about music and sound. And Robert Wyatt talks for 95 minutes to Tony Herrington about his favourite music.
• Twilight Science: Paul Schütze presents solo musical work and various collaborative projects in new digital editions.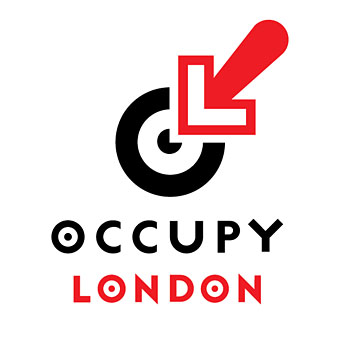 Jonathan Barnbrook's logo design for Occupy London.
• Winter reads: Myths of the Norsemen by Roger Lancelyn Green. Related: What became of illustrations in fiction?
• The White People and Other Weird Stories by Arthur Machen is a new Penguin Classic out in January.
• "This Christmas, why not give Viriconium, city of sex, syphillis & consubstantiation?"
• The Casual Optimist announces its Favourite Book Covers of 2011.
• Function (2011) by Emptyset | Aftertime (2011) by Roly Porter with Cynthia Miller on the Ondes Martenot.