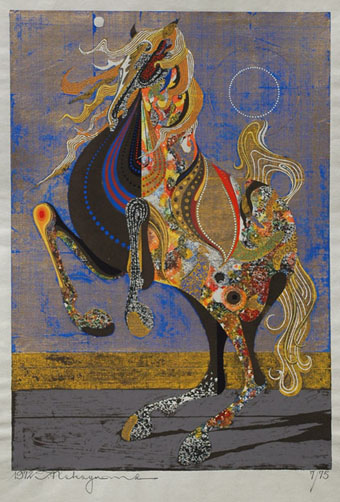 Dancing Horse (1972) by Tadashi Nakayama.
• The Wounded Galaxies Festival of Experimental Media takes place in Bloomington, Indiana, on October 7–11, 2015. The event is an offshoot of the earlier Burroughs Century, and the phrase "wounded galaxies" is one of Burroughs' own. It's also the partial title of Wounded Galaxies Tap At The Window, the most recent album by Cyclobe who will be performing at the festival. Cyclobe's Stephen Thrower will be in London later this month for the launch of his new book, Murderous Passions: The Delirious Cinema of Jesús Franco, and a screening of Franco's Vampyros Lesbos (1971).
• Gallery sites showcasing erotic art are often coy about the details of the work they're exhibiting. That's not the case with Artists Space, NYC, whose Tom of Finland: The Pleasure of Play is running from June 14–August 23, 2015.
• "I just loved the songs, and I didn't mind the age in their voices, and I didn't mind the fact that they were unaccompanied, it didn't matter." Shirley Collins talking to Ben Graham about her love of English folk music.
The more important question is what do we do with psychedelia now? I think the drugs themselves and the experiences they produce in individuals and for society are too important and vital to be pigeon-holed and taken hold of by a bloodthirsty media that always aims to reduce all experience to a few simple straplines for improved consumerism.

Dr Ben Sessa talking to Barnaby Smith about psychedelic drugs. Breaking Convention 2015, the Third International Conference on Psychedelic Consciousness, takes place at the University of Greenwich next month.
• "…if someone opens a door or if sunlight falls on them they shoot off the grid and suddenly you have a roomful of what sounds like sick bagpipes." Will Gregory on the physicality of Moog synthesizers.
• Mixes of the week: The Necromancer-Queens of Neverland, an exotic collection by SeraphicManta, Secret Thirteen Mix 156 by Asusu, and an Ornette Coleman playlist.
• "In 2015, the thought of anything as incendiary as Scum or Made in Britain turning up on TV just seems bizarre." Danny Leigh on the great Alan Clarke.
• More psychedelia: 'Art That Transcends', my article for Communication Arts, has been posted on the magazine's website.
• Phantasmaphile recommends Thus Were Their Faces, a collection of short stories by Silvina Ocampo.
• Earth filmed playing live in Brooklyn, NY, September 24, 2014. The full set, and a great performance.
• At Dangerous Minds: "How Far Will You Go?" Meet Smokey, the outrageously gay 70s cult rockers.
• Peter Strickland on six films that fed into The Duke of Burgundy.
• Polly On The Shore (1970) by Shirley & Dolly Collins | The Quiet Joys Of Brotherhood (1972) by Sandy Denny | The Banks of Red Roses (1988) by June Tabor