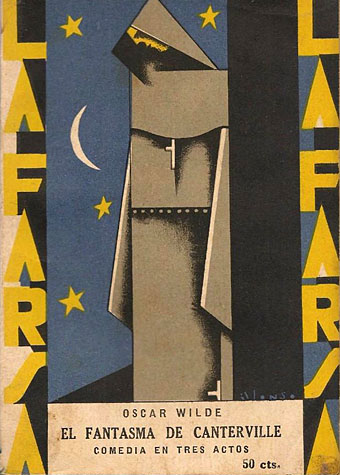 Cover art by Alonso for a 1929 Spanish edition of The Canterville Ghost by Oscar Wilde.
• Major music news of the week is the announcement, after a hiatus of nine years, of a new Jon Hassell album. Listening To Pictures (Pentimento Volume One) will be released on Hassell's new label, Ndeya, in June. Meanwhile, Paul Schütze has a new album (also his first in a long while), The Sky Torn Apart, released at the end of this month by Glacial Movements. For those impatient for new sounds, Red Goddess (of this men shall know nothing) by Hawthonn is out now, and very good it is too.
• Ghost Story (1974): a British film directed by Stephen Weeks, and starring (among others) Marianne Faithfull, Penelope Keith, Murray Melvin and (in a rare appearance) Vivian MacKerrell, the real-life model for Withnail from Bruce Robinson's Withnail and I. Also from 1974, a TV adaptation of Oscar Wilde's The Canterville Ghost starring David Niven.
• Nandini Ramnath on how an Indian film distributor in London (Mehelli Modi of Second Run DVD) is helping rescue forgotten classics from obscurity.
• Simon Reynolds explains why he thinks Boards of Canada's Music Has the Right to Children is the greatest psychedelic album of the '90s.
• At I Heart Noise: an interview with Dylan Carlson about his forthcoming solo album, Conquistador.
• At Dennis Cooper's: David Ehrenstein presents…Donald Cammell Day.
• Photos by David Graham of Mexico City's "gay subway".
• Circuit Des Yeux's favourite albums.
• The Gospel of Filth: a book list.
• Fountain Of Filth (1974) by Devo | The Heart's Filthy Lesson (1995) by David Bowie | Filthy/Gorgeous (2004) by Scissor Sisters