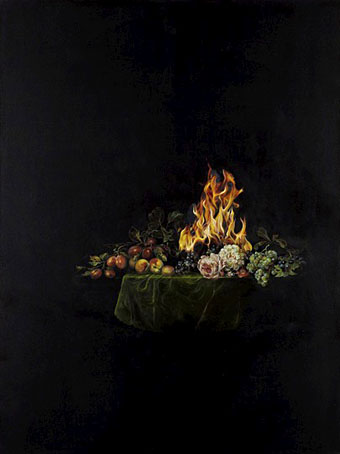 The Endlessness (2012) by Emma Bennett.
• "Clearly if you're familiar with The Arcades Project by Walter Benjamin you've got a leg up on what Rivette and company are up to. […] Like all Rivette works, it's obsessed with the interrelationship between theater and life—reality and fantasy." David Ehrenstein makes Jacques Rivette's Out 1 sound even more intriguing. The 729-minute film is being reissued later this year.
• "It's all your artistic friends. They frighten me…they seem evil, somehow—somehow unhealthy. And when you're with them, dear, you change…" Steven Cordova reviews To the Dark Tower (1946), the debut novel by gay writer Francis King.
• "Sex isn't a subtext in The Bloody Chamber, but the text itself. (Carter would explain that she was only making explicit a 'latent content' that is 'violently sexual.')" Laura Miller on Angela Carter's re-told fairy tales.
Yet, as a citizen, and especially as an artist, [Chimamanda Ngozi] Adichie refuses to censor herself. "There is already enough silencing in public discourse," says Adichie, and this is certainly true when the topic is race, and especially when the conversation is in America. It is our addiction to comfort that demands our silence regarding certain truths. Too often in America, Adichie claimed, "the goal of public discourse is comfort, not truth." Comfort, Adichie said, also demands "international digestibility," a reduction of complicated stories to a simple narrative. In the lecture, Adichie also warned of the silencing that is sometimes a product of social media outrage.

Kay Iguh on Chimamanda Ngozi Adichie's Arthur Miller Freedom to Write Lecture at the PEN World Voices Festival
• New books: The Strangers and Other Writings by Robert Aickman, and Murderous Passions: The Delirious Cinema of Jesús Franco by Stephen Thrower & Julian Grainger.
• The world is rediscovering Mad Max and George Miller's prowess for action cinema so Anne Billson posted a transcript of her 1985 interview with the director.
• Mixes of the week: Dmytro Fedorenko presents artists from Ukrainian record label Kvitnu, and The Ivy-Strangled Path Vol. VII by David Colohan.
• Assault on Precinct 13 goes disco: The End (John Anthony's New Scratch Mix) (1983) by "John Carpenter" (The Splash Band).
• John Coltrane talked to Frank Kofsky for an hour in November 1966.
• Sleazy Cinema: A guide to Peter Christopherson's music videos.
• Six hours of women in electronic music.
• The weird world of Alfred Kubin.
• Blood (1972) by Annette Peacock | Blood On The Moon (1981) by Chrome | Blood From The Air (1986) by Coil