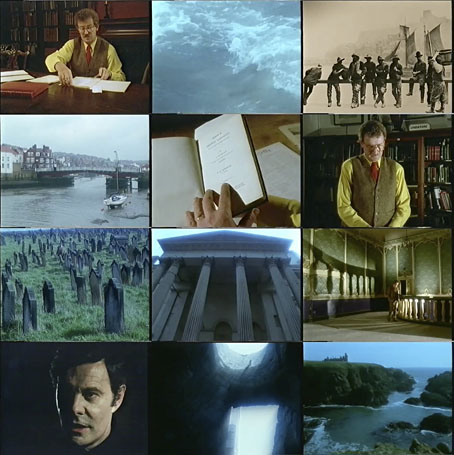 Nightmare: The Birth of Horror (1996): Dracula (and Louis Jourdan again).
Christopher Frayling, like Marina Warner, is that rare thing: a British academic with an enthusiasm for popular culture, and a talent for communicating that enthusiasm to a general audience. Both writers also have more than a passing interest in the darker areas of fiction, whether that means Gothic romance or contemporary horror films. One of Frayling's first books was The Vampyre: Lord Ruthven To Count Dracula (1978); the same year he contributed an excellent Lovecraft essay, Dreams of Dead Names, to George Hay's The Necronomicon: The Book of Dead Names, one of the two Necronomica published in the 1970s (three if you count Giger's art book). Frayling's essay, and another by Angela Carter are among the highlights in Hay's curious volume.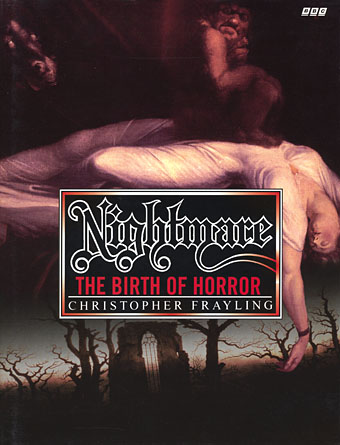 Nightmare: The Birth of Horror was both a book and a television series produced by the BBC in 1996. The year before, Frayling had written and presented Strange Landscape, an examination of the culture and philosophy of the Middle Ages. Nightmare looks at the creation of four British horror novels: Frankenstein, Dracula, The Strange Case of Dr Jekyll and Mr Hyde, and The Hound of the Baskervilles. Two of these stories—Frankenstein and Jekyll and Hyde—were famously the product of nightmares so Frayling stretches this coincidence to include the others; I'm still not sure the case is properly made for Bram Stoker but it hardly matters.
Another aspect of Frayling's thesis is the extraordinary power of these works, all of which have had a lasting global influence. The book is naturally more detailed than the TV series, delving into the fiction for the subtexts that contribute to the power of the stories. The Dracula section is a tour-de-force of condensed information, sketching a history of fictional vampires then looking at Stoker's career as assistant to actor Henry Irving, a man whose outsize personality was an inspiration for that of the vampiric count. There's also some interesting speculation about Stoker's sexuality; a letter he wrote to Walt Whitman is (to borrow a phrase from Sherlock Holmes)…suggestive. The rest of the chapter looks in detail at the slow creation of the novel. In the TV series what you lose in the literary specifics you gain in visits to some of the locations mentioned in the story, so for Dracula that means windswept Whitby on the Yorkshire coast. The same applies to the other novels: for Frankenstein there's a visit to the Villa Diodati on the shore of Lake Geneva, a journey to Dartmoor for Hound of the Baskervilles, and so on.
I was hoping the whole series might be on YouTube but for the moment the Frankenstein episode seems to be missing. The Dracula one is the best quality, the other two look a little rough. In the meantime copies of the book may still be found at reasonable prices.
• Nightmare: The Birth of Horror — Dracula | Dr Jekyll & Mr Hyde | The Hound of the Baskervilles