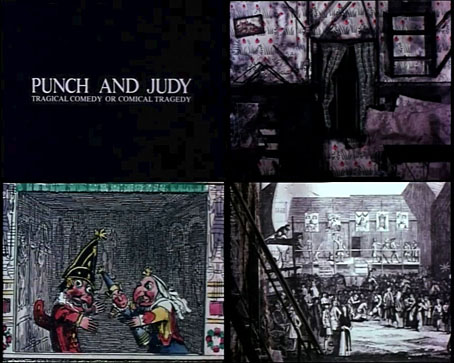 The Quay Brothers' first animated film, Nocturna Artificialia, was released in 1979. Prior to this there had been some short experiments but since these are always described as "lost" it's doubtful that we'll ever see them. The artistic success of Nocturna Artificialia prompted the Quays and producer-colleague Keith Griffiths to consider fresh outlets for their talents, and resulted in funding from Britain's Arts Council for two arts documentaries combining live-action film with animated interludes. Nocturna Artificialia has long been available for home viewing on the various Quays DVDs but the two early arts films, Punch and Judy: Tragical Comedy or Comical Tragedy (1980) and The Eternal Day of Michel de Ghelderode, 1898–1962 (1981), are omitted from the reissue canon for reasons that have never been very clear. Both films have been impossible to see unless you're an academic or film programmer, at least until now. Once again, YouTube has provided an outlet for exceptional rarities.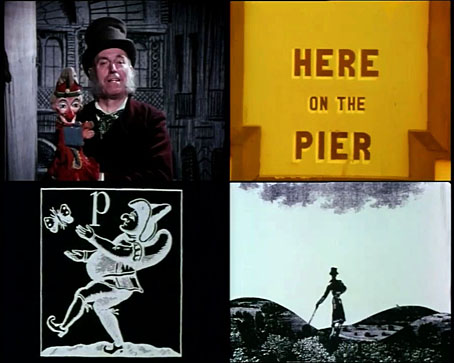 Punch and Judy: Tragical Comedy or Comical Tragedy

Now that finally I've watched these films it's understandable why they don't fit so easily with the Quays' more personal output. Punch and Judy has obvious superficial parallels with Jan Svankmajer's Punch and Judy (1966) but Svankmajer's film is his own idiosyncratic interpretation of the murderous puppet. The Quays film is much more straightforward, devoting most of its running time to a history of Mr Punch and the other puppet characters. The story of Punch himself (narrated by Joe Melia) is intercut with a contemporary performance of the play by a genuine Punch and Judy man, Percy Press. Animated sequences are limited to small inserts between the documentary material before a lengthier section at the end that illustrates Harrison Birtwhistle's Punch and Judy opera. This last section shows how much the Quays had developed their animation techniques since their first film, and is reminiscent of the opera sequences in their later film about Leos Janacek. Animation aside, there's little else that's recognisably Quay until the credits which are lettered by the brothers. (For this film and the following one they credit themselves as the "Brothers Quaij".) Punch and Judy: Tragical Comedy or Comical Tragedy was of sufficient quality to be screened by the BBC in 1981 as part of the Omnibus arts strand.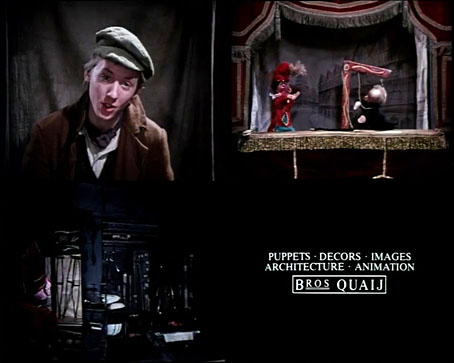 The Eternal Day of Michel de Ghelderode, 1898–1962

Michel de Ghelderode was a Belgian playwright whose grotesque and macabre works, many of which feature masks and puppets, are favourites of the Quays. This is a shorter film than the previous one (30 minutes rather than 45) but the territory is closer to the Quays' own concerns. The animated sequences are fewer but they're marvellous pieces, especially the longer central sequence which animates Ghelderode's Fastes d'enfer (Chronicles of Hell). The figures in the latter piece may depict Ghelderode's characters but the decor is 100% Quay, with a nocturnal cityscape and shadows from one of the trams that drift through their early films. A bonus for me was the music by Dome (Bruce Gilbert and Graham Lewis), a duo for whom the Quays later designed a record sleeve.
The rest of the film consists of archive footage of Ghelderode wandering Belgian streets, and live performance of other scenes from his plays. All of this is strange and fascinating, only spoiled a little by the picture being very dark in places. (The screen shots here have been brightened.) Keith Griffiths says that this was a result of the film not being properly exposed, a consequence of the company still learning film-making as they went along. This may also explain why the film is missing from the official canon. If so, it's a shame since it's closer to the Quays' own interests than some of their later commissions.
Now that these films have surfaced there's one more short from the early years that's still unavailable. Ein Brudermord (1981) is based on a Franz Kafka short story, and runs for a mere 6 minutes. Meanwhile, I'm also hoping that someone may eventually post better copies of the Stravinsky and Janacek films, both of which have been prevented from DVD reissue by the copyrights on the music.
Elsewhere on { feuilleton }
• The Quay Brothers archive