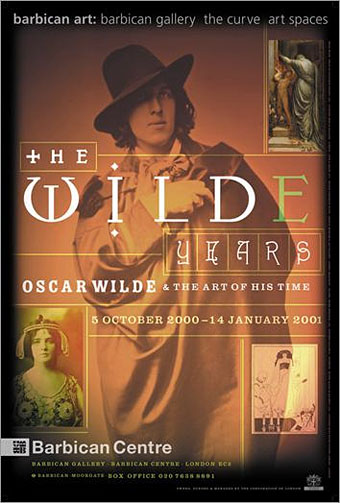 The Wilde Years (2000), a poster by Jonathan Barnbrook for an exhibition at the Barbican Centre, London.
Continuing an occasional series. Recent (and not-so-recent) Wildean links.
• Sander Bink writes that Beardsley-esque artist Carel de Nerée tot Babberich was in Paris in the summer of 1900, the summer of the Exposition Universelle which has been a subject of many posts here. Did he meet Oscar Wilde? It's a possibility.
• "Was Oscar Wilde's outlandish personality more influential than his writing?" asks George Woodcock.
These were the years when Zola was at the height of his international fame but Wilde pans the fashionable Naturalist school by contrasting it with another phenomenon that was then sweeping through Europe: Russian fiction. One of the small gems of these volumes is a cluster of very interesting and little-known articles on modern Russian novels. Wilde rated Turgenev, Tolstoy and Dostoevsky far above "the obscene brood of pseudo-realists which roosts in the Cloaca maxima of France" and welcomed their influence on modern literature. He was certainly among the first critics to review the English translations of Crime and Punishment and Injury and Insult, praising Dostoevsky's command of detail and ability to probe into "the most hidden springs of life".

Stefano Evangelista on Wilde's world of journalism
• "An idea that is not dangerous is not worthy of being called an idea at all." A print by ObviousState.
• Robert McCrum looks at The Picture of Dorian Gray for the Guardian's 100 Best Novels.
• Oscar Wilde provides the Pinterest legions with a thousand and one quotes.
Elsewhere on { feuilleton }
• The Oscar Wilde archive