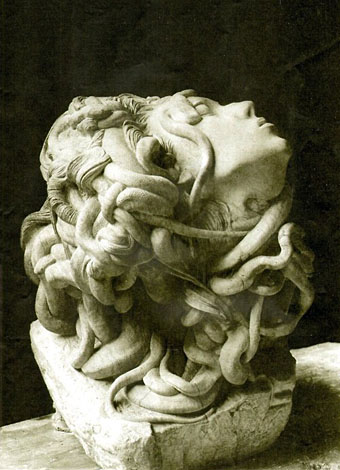 Eternal Pain (1913) by Paul Dardé. (And also here)
Rain Taxi caused a stir this week with its savaging of Hamlet's Father by science fiction writer Orson Scott Card. The book is another of Card's blatherings about the hell of being homosexual dressed in garments stolen from the unfortunate William Shakespeare. Rain Taxi made the obvious point about many of Shakespeare's sonnets being homoerotic. For my part I was more appalled by the quoted extract which reduced one of the greatest plays in the language to that lifeless, cardboard-character-speak which is endemic in bad genre writing. News of the travesty quickly spread to gay news blogs, The Outer Alliance and elsewhere, ensuring that what's left of Card's reputation continues to spiral down a Mel Gibson-shaped black hole.
• "Sounds only like itself, like no one before or after." Julian Cope on Tago Mago by Can which will be reissued in a new edition in November. Nice to see the return of the original sleeve design, something I saw once in a record shop then didn't see again for years. For a long time I thought I'd imagined it. Related: two German art exhibitions inspired by the group.
• The Responsive Eye (1965), a catalogue for the MoMA exhibition that launched Op Art. Also at Ubuweb: La femme 100 têtes, a film by Eric Duvivier based on the collage work by Max Ernst.
• More apocalyptic art: William Feaver on John Martin whose exhibition will be opening at Tate Britain later this month. There's a trailer here.
• Borges and I, an essay by Nandini Ramachandran. Related: Buenos Aires: Las Calles de Borges, a short film by Ian Ruschel.
• "Who was JG Ballard? Don't ask his first biographer," says Robert McCrum.
• Biologically-inspired fabric and material design by Neri Oxman.
• Cross-pollinating subgenres: "Steampunk ambient" at Disquiet.
• In the Shadow of Saturn, a photo by the Cassini spacecraft.
• The art and fashion designs of Alia Penner.
• Fleet of hybrid airships to conquer Arctic.
• RIP Jordan Belson, filmmaker.
• Ten years of Ladytron whose new album is released on the 12th of September: Playgirl (2001), Seventeen (2002), Destroy Everything You Touch (2005), Sugar (2005), Ghosts (2008), Ace Of Hz (2011).