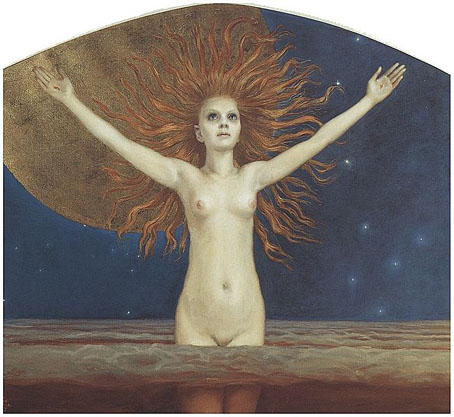 Ad Astra (1907) by Akseli Gallen-Kallela.
• Andres Serrano's works are photo prints so you can't damage an exhibition item the way you can with a painting. That didn't stop Catholic protestors in France attacking a copy of Piss Christ on Monday. By coincidence, Dave Maier had posted an essay about Serrano's work a few hours earlier, and with a reminder that the notorious photograph was part of a series, a detail which is often forgotten or conveniently ignored.
• The Avant Garde Project which made available deleted experimental audio works (see this earlier post) ceased activity a while ago so it's good to see that its archives will now be hosted at Ubuweb.
…African Head Charge again was a studio name I had to start with, and it evolved into a band about eight years later. That started out again I read an interview in a newspaper where Brian Eno talked about he'd made an album called My Life in the Bush of Ghosts with another musician—that Talking Heads fellow [David Byrne]—and he said "I had a vision of a psychedelic Africa". And I thought, "Oh, that's pretentious". But then I thought about it, and thought "No, what a good idea! Make really trippy African dub".

Adrian Sherwood on thirty years of On-U Sound.
• Related: Brian Eno has a new album out in July, Drums Between The Bells, a collaboration with Rick Holland.
"Do you think Lord Leighton could by any chance have been a homosexual?" enquired Richard. "It says here," I replied, consulting a laminated information card, "that there is no evidence one way or the other."

"Rent boys leave no evidence," said Richard.

A private view of Lord Leighton's home in Holland Park, London, which opened to the public again last year.

• Passengers, an exhibition of urban transit photos by Chris Marker at Peter Blum, NYC. For a different kind of rail transport there's this exploration of London's disused underground Post Office Railway.
• Reappraising the recent past: Jon Savage on Taxi zum Klo, Christiane F, David Bowie and the seedy attraction of Berlin in the 70s and 80s; Iain Sinclair on the Festival of Britain sixty years on.
• Stella Steyn's illustrations for Finnegans Wake as seen in transition magazine, 1929. And speaking of literary magazines, the return of New Worlds has been announced.
• Clive Hicks-Jenkins is an art monograph published next month by Lund Humphries. Clive enthused about the book's arrival.
• 50 Watts announces the Polish Book Cover Contest.
• 4th June, 2011 is Radiophonic Creation Day.
• Americans: has your state banned sodomy?
• Stardust (1931) by Louis Armstrong | Stardust (1940) by Artie Shaw | Stardust (1957) by Nat King Cole.