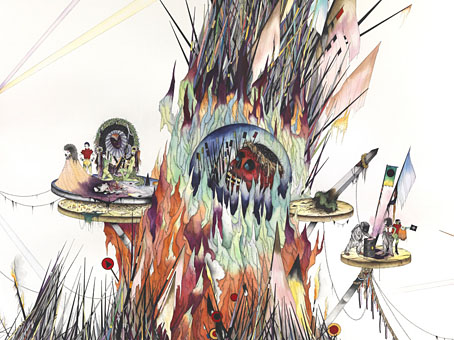 Untitled painting by Jen Ray.
• Lots of architecture links this week so it's fitting that one of them is director Ben Wheatley talking to David Fear about his forthcoming film of JG Ballard's High-Rise: "I was just thinking about this the other day, how hard it was to get a hold of stuff before the Internet. You really had to hunt down stuff or have someone who knew what was up to say, 'You gotta read Naked Lunch, mate. You gotta read Crash.' […] They were secretive things you had to ferret out, those books. It was the same with music and certain movies. And drugs." Related: Souvenir d'un Futur, photographs by Laurent Kronental of the high-rise banlieues of Paris.
• "In Ancient Egypt, if a lowly official received the glyph of an owl from the Pharaoh, it was understood that the recipient should take his own life." Carey McHugh in a brief history of the owl.
• I'd always thought the red buildings seen briefly in Blow-Up (1966) had been painted to Antonioni's orders. Not so, says Another Nickel In The Machine.
He belongs right up there with Poe and Kafka. The best writer of weird fiction in the past half century. And the reason he belongs there is Ligotti's both visceral and intellectual, formally experimental and able to tell a traditional horror story with equal ease. He's also modernized the weird tale, from his early work on. The later workplace stories complete that process. The other thing he brings is a very dark sense of humor and a sense of the absurdity of the world—and a critique of that world that serves as subtext. All of these elements in harmony—symbiosis and contamination—equal genius. I read his work in a continuum that includes Kafka, Poe, Angela Carter, Bruno Schulz, Rikki Ducornet, and the great Caitlin R. Kiernan, but also absurdists and realists and flat-out surrealists. I appreciate that Ligotti stories can be revisited and reveal new dimensions.

Jeff VanderMeer on Thomas Ligotti
• David Ferry talks to the people trying to excavate the remains of sets from Cecil B. DeMille's first film of The Ten Commandments.
• As part of the ongoing vinyl reissue deluge, Crammed Discs are releasing a 10-disc box of albums by the great Tuxedomoon.
• At Strange Flowers: I see for it is night, remembering Marie Cermínová, better known as Surrealist artist Toyen.
• Blue Sun Chiming, an animated video by Elisa Ambrogio for the song of that name by Six Organs of Admittance.
• At BLDGBLOG: Occult Infrastructure and the "Funerary Teleportation Grid" of Greater London.
• Enigmatic music makers Watch Repair are now selling their works at Bandcamp.
• Video by Harald Albrigtsen of whales basking under the Northern Lights.
• The urban explorations of Russian photographer Ralph Mirebs.
• Mix of the week: Secret Thirteen Mix 164 by Discipula.
• The lost rivers that lie beneath London
• Egypt (1985) by Tuxedomoon | Whales Tails (1986) by Cocteau Twins | London's Lost Rivers (1996) by Coil