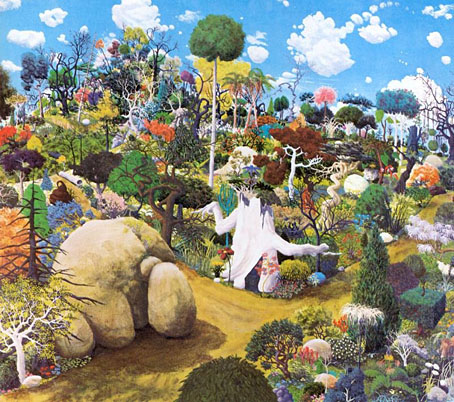 Mescaline Woods (1969) by Gage Taylor.
• The soundtrack to The Man Who Fell to Earth will be released for the first time next month in a double-disc set (CD & vinyl). This isn't, as some people have hoped, David Bowie's unheard music for the film, but a collection of the pre-existing songs and other pieces, plus the original compositions by John Phillips. Consequence of Sound has a track list.
• At Scream Addicts: Joe R. Lansdale talks about the only film adaptation of Shirley Jackson's The Haunting of Hill House that you need to see: the 1963 version directed by Robert Wise.
• The new wave of new age: How music's most maligned genre finally became cool by Adam Bychawski.
• Transmissions From The Abyss: Dark ambient music for the perfect headspace by S. Elizabeth.
• Jason Farrago reviews Art Aids America, an exhibition at the Bronx Museum, New York.
• Curse Go Back: a limited reissue of tape experiments by William Burroughs.
• Samuel Wigley on Notorious at 70: toasting Hitchcock's dark masterpiece.
• Toyah Willcox remembers working with Derek Jarman on The Tempest.
• "Why are musicians so obsessed with David Lynch?" asks Selim Bulut.
• Read the original 32-page programme for Fritz Lang's Metropolis.
• David Parkinson chooses 10 essential films starring Oliver Reed.
• Mixes of the week: The Sounds of the Dawn NTS radio shows.
• Keith Haring envisions Manhattan as a kingdom of penises.
• Frank Guan on Massive Attack's Blue Lines, 25 years on.
• Honky Tonk Pts 1 & 2 (1956) by Bill Doggett | I've Told Every Little Star (1961) by Linda Scott | I'm Deranged (1995) by David Bowie