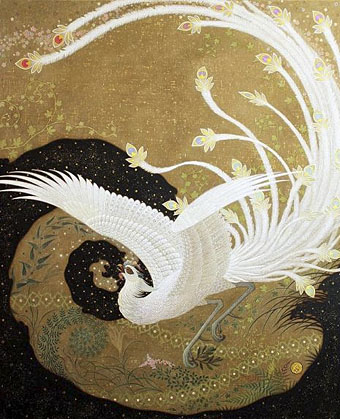 Regeneration (2011) by Toshiyuki Enoki. Via.
• HIDE/SEEK: Difference and Desire in American Portraiture, the art exhibition that caused such a fuss last year at the Smithsonian Institution, opens at the Brooklyn Museum, NYC, on November 18th. Among the events associated with the show is a screening of James Bidgood's lusciously erotic Pink Narcissus. David Wojnarowicz's video piece, A Fire in My Belly, is still a part of the exhibition so the New York Daily News reached for the outrage stick to prod some reaction from people who'd never heard of the artist or his work before. Will history repeat itself? Does the Pope shit in the woods? Watch this space…
Magic is not simply a matter of the occult arts, but a whole way of thinking, of dreaming the impossible. As such it has tremendous force in opening the mind to new realms of achievement: imagination precedes the fact. It used to be associated with wisdom, understanding the powers of nature, and with technical ingenuity that could let men do things they had never dreamed of before. The supreme fiction of this magical thinking is The Arabian Nights, with its flying carpets, hidden treasure and sudden revelations…

Marina Warner, whose new book, Stranger Magic: Charmed States and the Arabian Nights, is reviewed here and here.
• Those Americans who adore big business but loathe the idea of gay marriage will be dizzy with cognitive dissonance at the news that 70 major US companies—including CBS, Google, Microsoft and Starbucks—have signed a statement saying the Defense of Marriage Act (DOMA) is bad for business. Mark Morford at SFGate says this now means that real homophobes don't Google.
• Divining with shadows and dreams, tears and blood: S. Elizabeth talks to JL Schnabel of BloodMilk about her "supernatural jewels for surrealist darlings".
• Earth: Inferno (2003), a short film by Mor Navón & Julián Moguillansky based on the book by Austin Osman Spare. Via form is void.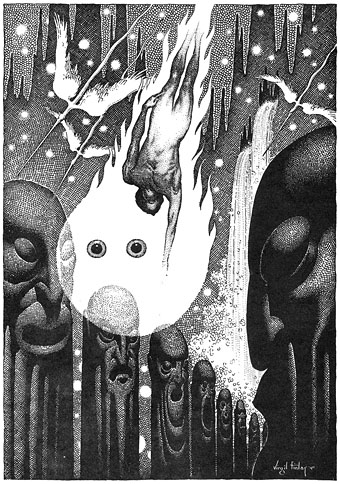 Illustration by Virgil Finlay for A. Merritt's The Face in the Abyss. From a 1942 Finlay portfolio at Golden Age Comic Book Stories.
• The Mute Synth as created by Dirty Electronics & designed by Adrian Shaughnessy.
• Phil Baker reviews two new Aleister Crowley biographies at the TLS.
• A Brief Rant on the Future of Interaction Design
• The Most Amazing Room In Queens, NYC.
• Brian Eno on composers as gardeners.
• Alan Turing is Alan Garner's hero.
• Paintings by Guy Denning.
• Static (1998) by Redshift | The Owl Service (2000) by Pram | Lover's Ghost (2010) by The Owl Service.