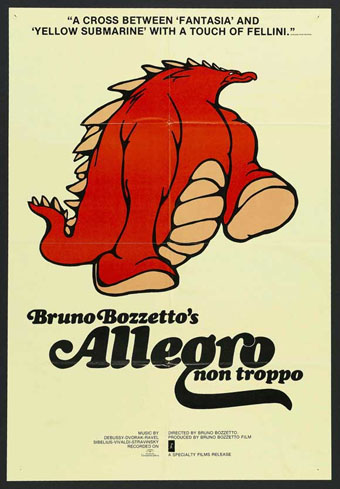 Having watched Disney's Fantasia (1940) recently, I had to search out this as a palliative. There's a lot I like about the Disney film but the explanatory interludes for the Great Unwashed are tiresome, I've always loathed Mickey Mouse's voice (although the Sorceror's Apprentice sequence is fine), and, for a film that aspired to artistic seriousness, the Pastoral Symphony episode has all the aesthetic gravitas of a packet of fizzy sweets.
Bruno Bozzetto's Allegro Non Troppo (1976) was a feature-length animated riposte to Disney's pretensions. The concept is identical—well-known pieces of classical music illustrated by animation—but in place of inadvertent vulgarity there's a heavy helping of deliberately crude behaviour. Bozzetto replaces the coyness of the Pastoral Symphony with the erotic melancholy of an ageing satyr set to Debussy's Prélude à l'après-midi d'un faune. The laboured explanations of Fantasia become a series of live-action slapstick moments supposedly featuring the animator, conductor, and members of the orchestra, all of which explain nothing at all.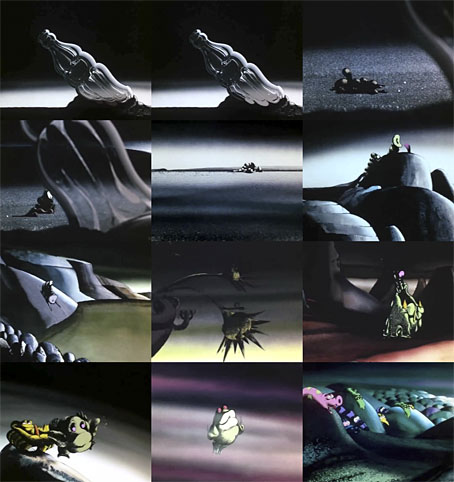 The one thing everyone remembers from Allegro Non Troppo is the Bolero sequence in which Bozzetto satirises Fantasia's evolutionary Rite of Spring. A departing spacecraft leaves a Coke bottle on the surface of a planet. The dregs left in the bottle give birth to a slime creature which crawls away and evolves along with Ravel's music into a train of animals marching (and eating each other) across a treacherous landscape. The animation may lack Disney's technical finesse but it's a lot more memorable than his cartoon dinosaurs. Watch the whole sequence here.