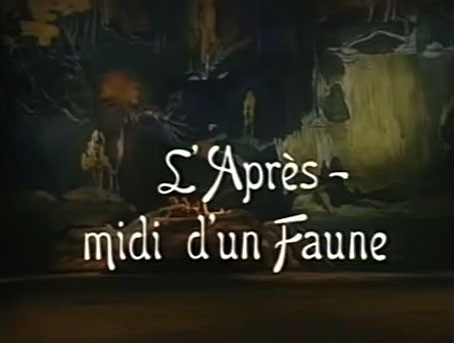 Listening recently to a collection of Debussy's music it occurred to me that I knew rather a lot about the creation and performance of the Nijinsky ballet based on Prélude à l'après-midi d'un faune but couldn't recall having seen a performance of the original dance. Not in full, anyway, although "full" here only means the entire 12 minutes, Debussy's short piece being the only completed part of what would have been a much longer composition.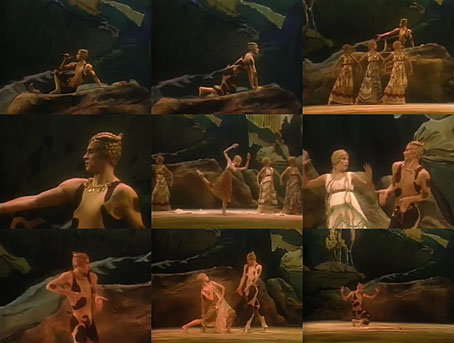 This filmed version of the ballet dates from 1980, and forms part of a tribute to Nijinsky staged by Rudolf Nureyev and Chicago's Joffrey Ballet, the other works being Petrouchka and Le Spectre de la Rose. L'après-midi d'un faune is the only one of the three ballets that was choreographed as well as danced by Nijinsky, and was famously radical at the time, with the dancers adopting the stylised postures of figures from the ceramics of Ancient Greece. The erotic tone of the piece also generated controversy.
The Nureyev/Joffrey film restages the original Ballets Russes performance from 1912, using the costumes and decor designed by Léon Bakst. The choreography departs so much from classical ballet it might serve as a different kind of prelude, to the even more radical and controversial dances that Nijinsky and the Ballets Russes staged the following year. The original performance of The Rite of Spring was subsequently resurrected by the Joffrey Ballet after a lengthy period of historical research by Millicent Hodson and Kenneth Archer. A 1989 BBC documentary about the process of research and reconstruction, The Search for Nijinsky's Rite of Spring, is essential viewing for anyone interested in Diaghilev's company.
Previously on { feuilleton }
• George Barbier's Nijinsky
• The Rite of Spring reconstructed
• Vaslav Nijinsky by Paul Iribe
• Diaghilev and the Ballets Russes
• Pamela Colman Smith's Russian Ballet
• Images of Nijinsky