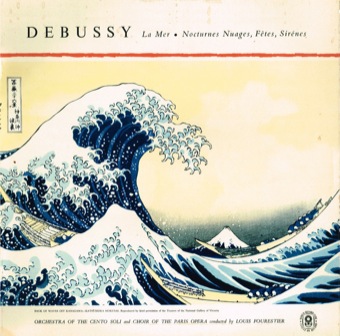 Debussy: La Mer, Nocturnes (Nuages, Fêtes, Sirènes) (1959); Orchestra Of The Cento Soli And Choir Of The Paris Opera, Louis Fourestier.
Continuing an occasional series about artists or designers whose work has appeared on record sleeves. In the case of Katsushika Hokusai it's all about the waves, or one wave in particular. The Great Wave off Kanegawa (1830) is not only the most well-known of all the prints in the Thirty-Six Views of Mount Fuji series, but it occupies the unique position of representing to the rest of the world the nation from which it originates. Claude Debussy deserves much of the credit for elevating the popularity of the wave print after he used it in 1905 as an illustration on the cover of the sheet music for La Mer. Consequently, the print is an inevitable choice for art directors who require cover art for Debussy recordings. The example above is the first in a long line, many of which are omitted here in favour of other prints. The landscape format of this view, and that of many other Hokusai prints, means that the art is usually cropped to suit the square of the album cover. The results aren't always successful.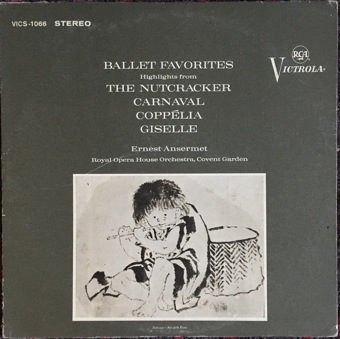 Tchaikovsky, Schumann, Delibes, Adam: Ballet Favourites: Highlights From The Nutcracker/Carnaval/Coppélia/Giselle (1964); Orchestra Of The Royal Opera House, Covent Garden, Ernest Ansermet.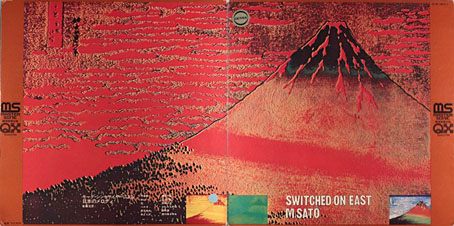 Switched On East (1971) by M. Sato. Art: Fine Wind, Clear Morning, from Thirty-Six Views of Mount Fuji.

A gatefold sleeve for one of the many "switched-on" Moog albums released to capitalise on the success of Switched-On Bach by Wendy Carlos. (Tomita recorded Switched On Hit & Rock a year later.) M. Sato gives a collection of Japanese folk tunes the synthesizer treatment.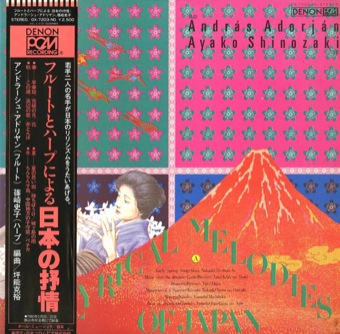 Lyrical Melodies Of Japan (1980) by András Adorján & Ayako Shinozaki.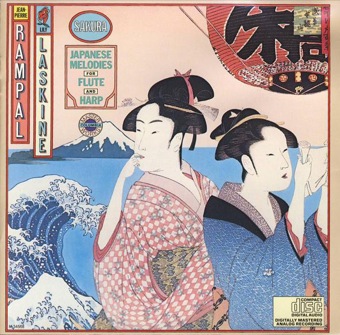 Sakura: Japanese Melodies For Flute And Harp (1990) by Jean-Pierre Rampal And Lily Laskine.
A reissue with collaged artwork by Paula Sher of an album first released in 1969.