The Twitter consensus yesterday was that CafePress products based on this design were required so here they are. As usual I never know what people want from CafePress so I tend to throw the design on their entire range so long as it fits the requisite size and shape. This piece works better than most since it's simple and direct, my more detailed and pictorial creations look better as prints. I keep feeling that someone must have made a design like this already, these variations on the "Keep Calm" poster have proliferated so much, but searching didn't reveal anything so… The web address doesn't appear on the CafePress things, that's just for the images posted here if and when they drift into Tumblr's Sargasso Sea of uncredited pictures.
The Call of Cthulhu (1987–88).
While we're on the subject of everyone's favourite Great Old One, I may as well take the opportunity to remind those interested that these earlier renderings are also available as various CafePress products. The Call of Cthulhu piece above is the opening page of my comic strip adaptation of the story as seen in The Starry Wisdom anthology from Creation Books and my Haunter of the Dark collection.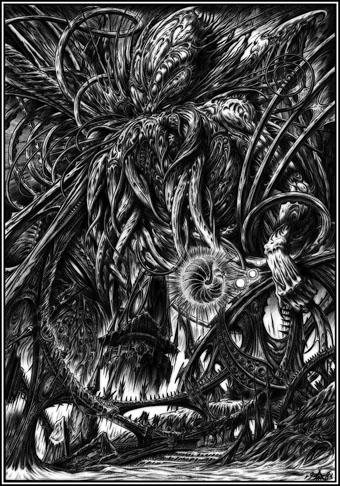 Cthulhu from The Great Old Ones (1999).
The Great Old Ones drawing was one of the plates from the series of the same name I produced with Alan Moore for the Haunter book. And Cthulhu Rising is the cover of that volume, of course, seen here with its Haeckel-derived frame. The Great Old Ones Cthulhu was drawn with a Biro pen then tweaked slightly in Photoshop. I don't think I've ever posted a large version of it so here it is.
Cthulhu Rising (2004).
Elsewhere on { feuilleton }
• The Lovecraft archive