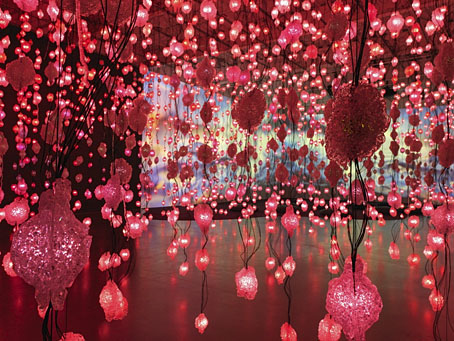 Pixel Forest (2016) by Pipilotti Rist.
• "Think about it: gays, lesbians, bisexuals, and transgender people were almost completely invisible in the movies or on television, or even in newspapers and magazines. It wasn't until LGBT people started producing their own media that we started to see consistent, positive images. But it would take until very recently for TV and cinema to catch up with what happened in books and magazines decades ago. In other words, nearly all LGBT culture only existed in print or at the bar. So when the queer bookstore disappears, where else can you find 40+ years of LGBT culture? (Hint: it's not on Netflix.)" Ken White on starting Query Books and republishing classic LGBT literature.
• Related to the above: David Shariatmadari reviews a new edition of Coming Out, Jeffrey Weeks' history of gay emancipation in the UK; Modern Harmonic is reissuing Love Is A Drag, a collection of "love songs by men, for men", first released in 1962; Your Daily Male 2017: 52 international artists, 365 pages of full-colour male art; erotic portraits of Yukio Mishima by Eikoh Hosoe.
• A Year In The Country revisits The Touchables (1968), a film about four Swinging Sixties girls who live in a huge plastic bubble in the countryside (must be a nightmare in winter); the quartet kidnap a rock star as "a temporary solution to the leisure problem". Script by Ian La Frenais from a story by David & Donald Cammell. No DVD but it's on YouTube.
• Mixes of the week are still in the Halloween zone: FACT mix 575 by Fenriz, and Resting Lich Face by SeraphicManta.
• War, love and weirdness: Brian Dillon on Powell & Pressburger's A Matter of Life and Death, 70 years on.
• Bringing back the magic: a conversation with Hope Sandoval & The Warm Inventions.
• David Toop listens, finally, to the legendary John Latham recordings of Pink Floyd.
• The Synth Sounds of John Carpenter: Halloween, The Fog, Assault on Precinct 13.
• "Creep or craftsman? Hitchcock was both," says Tom Shone.
• The Dazzling Designs for a New York That Never Existed
• Photography by Harry Gruyaert
• The Untouchables (1959) by Nelson Riddle | The Touchables (All Of Us) (1968) by Nirvana (UK) | The Touchables (1980) by The Human League