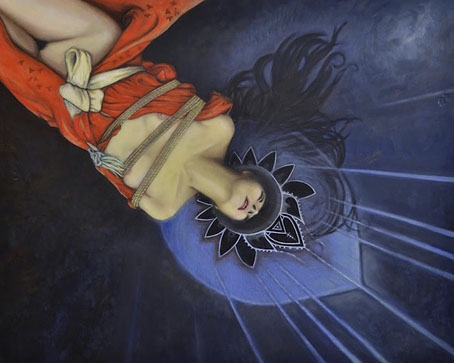 States of Ecstasy 1 by K. Lenore Siner some of whose work may be seen in Witch-Ikon: An Exhibition of Contemporary Witchcraft Imagery at Mortlake & Company, Seattle.
• Emily Temple compiles a list of "40 creepy book covers". A shame that she (or Lithub) can't also credit more of the artists and designers responsible. Searching titles at ISFDB would turn up many of the missing names.
• Blogging has suffered in recent years from the onslaught of social media but some persist in maintaining the form as a creative act. Poemas del río Wang is one such, its scope best seen in this alphabetical index.
• Mixes of the week: XLR8R Podcast 510 by Moodprint, Secret Thirteen Mix 232 by Alex XIII Maerbach, a mix for The Wire by Sadaf, and FACT mix 621 by NHK yx Koyxen.
Out next month: Mute: A Visual Document, being a visual history of Mute Records by Terry Burrows and Daniel Miller.
• Nick Soulsby on "the myth and majesty of Vangelis' timeless Blade Runner soundtrack".
• Compound in the new album by Yair Elazar Glotman. Stream it in full here.
• Killed by Roses (1963): Eikoh Hosoe's photographs of Yukio Mishima.
• Oriental Traditional Music from LPs & Cassettes
• Hours and hours of Blue Jam. Oo ab welcome.
• 65 books of prints by Katsushika Hokusai.
• Alpha (1976) by Vangelis | Rêve (1979) by Vangelis | Flamants Roses (1979) by Vangelis