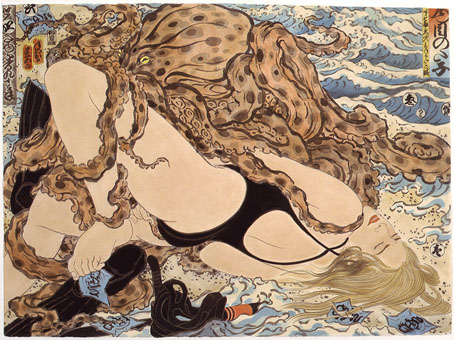 Sarah and Writhing Octopus (New Wave Series, 1992) by Masami Teraoka.
Strange Flowers continues to push all my buttons. For a while now I'd been intent on writing something about the strange (unbuilt) temples designed by German artist/obsessive naturist Fidus (Hugo Höppener) but I reckon James has done a better job than I would have managed. Also last week he wrote about Schloss Schleißheim, a palatial estate outside Munich with connections to Last Year in Marienbad and another eccentric, pseudonymous German artist: Alastair (Hans Henning Voigt).
• The circus poster that inspired John Lennon's Sgt. Pepper song Being For The Benefit Of Mr. Kite! has been reproduced as a limited edition letterpress print. Related: Wikipedia's page about Pablo Fanque (1796–1871), "the first black circus proprietor in Britain".
• The first two volumes of The Graphic Canon, both edited by Russ Kick, are reviewed at Literary Kicks. I've not seen either of these yet but volume 2 contains my interpretation of The Picture of Dorian Gray. Related: the second book previewed at Brain Pickings.
You only have to read [Alan Bennett's] diaries to see that, underneath the wit and humour and sandwich-filled pottering around old churches, there is a deep resentment at what has happened to England in his lifetime and an instinctive distrust, sometimes amounting to deep loathing, of most politicians. Listening, for instance, to Alan Clark and Kenneth Clarke talking on the radio about the arrest of General Pinochet in 1998, he writes: "Both have that built-in shrug characteristic of 80s Conservatism, electrodes on the testicles a small price to pay when economic recovery's at stake."

Michael Billington on Alan Bennett: a quiet radical
• Hauntologists mine the past for music's future: Mark Pilkington draws a Venn diagram encompassing Coil, Broadcast, the Ghost Box label, Arthur Machen, MR James, Nigel Kneale, Iain Sinclair and others.
• Hell Is a City: the making of a cult classic – in pictures. The mean streets of Manchester given the thriller treatment by Hammer Films in 1959. The film is released on DVD this month.
• The Function Room: The Kollection, Matt Leyshon's debut volume of horror stories, has just been published. The cover painting is one of my pieces from the 1990s.
• New Worlds magazine (now apparently known as "Michael Moorcock's New Worlds") has been relaunched online.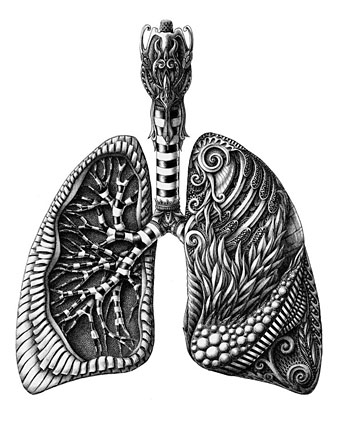 A drawing from Anatomy (part 1), a series by Alex Konahin.
• The forthcoming Scott Walker album, Bish Bosch, will be released on December 3rd. 4AD has a trailer.
• Cormac McCarthy Cuts to the Bone: Noah Gallagher Shannon on the early drafts of Blood Meridian.
• The Velvet Underground of English Letters: Simon Sellars Discusses JG Ballard.
• Michelle Dean on The Comfort of Bad Books.
• The typewriter repairers of Los Angeles
• Marienbad (1987) by Sonoko | Komm Nach Marienbad (2011) by Marienbad | Marienbad (2012) by Julia Holter.
(Thanks to Ian and Pedro for this week's picture links!)