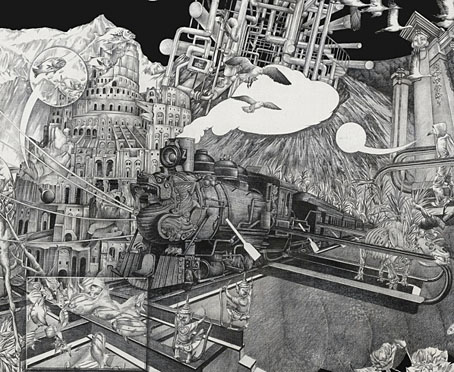 Fly (2012, detail) by Zhao Na.
• This week in psychedelia: the UK now has its own Psychedelic Society (just in time for the mushroom season), and is using some of my psychedelic Wonderland/Looking-Glass artwork for its headers and things. Over at The Quietus John Doran asks what makes music psychedelic in 2014, while a number of the site's writers offer suggestions for a survey of modern European psychedelia (bonus points for using the alien head from the cover of Heldon 6: Interface at the top of the page).
• Rick Poynor looks at posters by Hans Hillmann for Jean-Luc Godard's films while at the BFI site four directors pay tribute to Hillmann. "…poster art has stagnated over the last 30 or 40 years," says Peter Strickland. "It's an embarrassment for film when one considers how the music industry has completely embraced the graphic form." Related: lots of Hans Hillmann at Pinterest.
• More psychedelics (and more of the usual suspects), neurologist Andrew Lees on William Burroughs' experiences with yagé and apomorphine, and DJ Pangburn on a word-search puzzle containing "every word Borges wrote". The life and work of William Burroughs is celebrated in London next month with a one-day event, Language is a Virus from Outer Space.
• At Dangerous Minds: Kenneth Anger – Magier des Untergrundfilms (1970), a 53-minute documentary by Reinhold E. Thiel. The subtitles are obtrusive but the material itself, which includes footage of Anger filming Lucifer Rising, is priceless.
• 73 minutes of Pye Corner Audio playing in Ibiza last month. More electronica: Colm McAuliffe talks to former members of the BBC's Radiophonic Workshop.
• The Assassination of Margaret Thatcher – August 6th 1983, an excellent story by Hilary Mantel who talks about her own assassination fantasies here.
• Mixes of the week: Cosey Fanni Tutti's 2014 Mix for Dazed Digital, and Secret Thirteen Mix 128 by DSCRD.
• Pond i, a video for a new piece of music by Jon Brooks.
• Tomorrow Never Knows (1966) by The Mirage | Tomorrow Never Knows (1976) by 801 | Tomorrow Never Knows (1983) by Monsoon