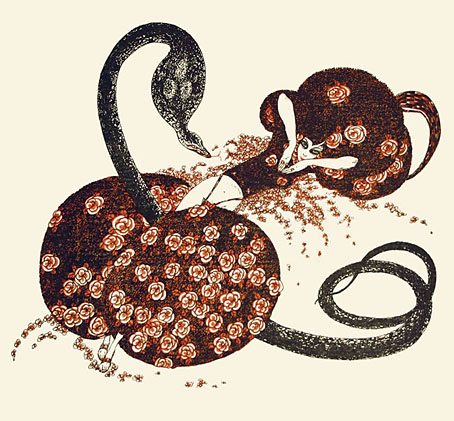 Salammbô by Alastair (Hans Henning Voigt) from Harry Crosby's Red Skeletons (1927). Dover published a new collection of Alastair's drawings in September.
"A Taste of Honey showed working-class women from a working-class woman's point of view, had a gay man as a central and sympathetic figure, and a black character who was neither idealised nor a racial stereotype." RIP Shelagh Delaney. Related: Shelagh Delaney's Salford (1960), directed by Ken Russell, and all 47 minutes (!) of The White Bus (1967), Lindsay Anderson's strange, pre-If…. short, written by Shelagh Delaney, filmed in and around Manchester.
Since birth I've craved all things psychedelic, the energy and beauty of it. The pleasure… […] But in the US the exploration of consciousness and its powers—or really any curiosity about anything at all—is actively discouraged, because the system is so corrupt that it depends on people being virtually unconscious all the time. Burroughs cracked that code long ago. Spirituality here equals money; no one seems to be able to think, never mind explore their own consciousness.
• Ian Albinson shows us The Title Design of Saul Bass while Ace Jet 170 has a copy of the new Bass monograph.
• Kris Kool (1970) at 50 Watts, Philip Caza's lurid, erotic, psychedelic comic strip.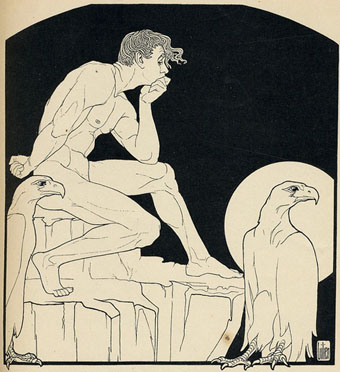 Götz Krafft by EM Lilien from a collection at Flickr.
• Serious Listeners: The Strange and Frightening World of Coil.
• The Octopus Chronicles, a new blog at Scientific American.
• We now live in a world where there are Ghost Box badges.
• Kilian Eng interviewed at Sci-Fi-O-Rama.
• A Taste of Honey (1962) by Acker Bilk | A Taste of Honey (1965) by Herb Alpert's Tijuana Brass | A Taste of Honey (Moog version) (1969) by Martin Denny.