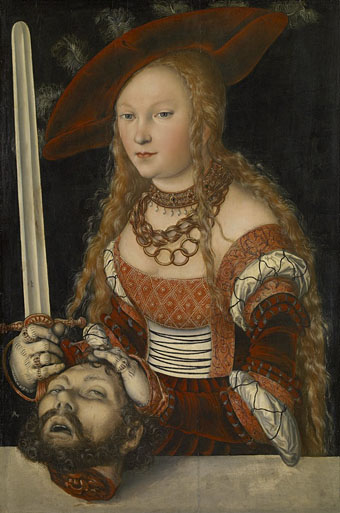 Judith with the Head of Holofernes (1520–1540) by Lucas Cranach the Elder.
It doesn't take much effort to refute the jeremiads of those who complain that popular culture is exclusively violent, all that's usually required is to direct attention to Titus Andronicus or The Revenger's Tragedy. Compared to the stage, the art world seems at first to be more circumspect, especially in the 19th century when the battles scenes of history painters sprawled across acres of canvas, all of them devoid of the physical trauma of warfare.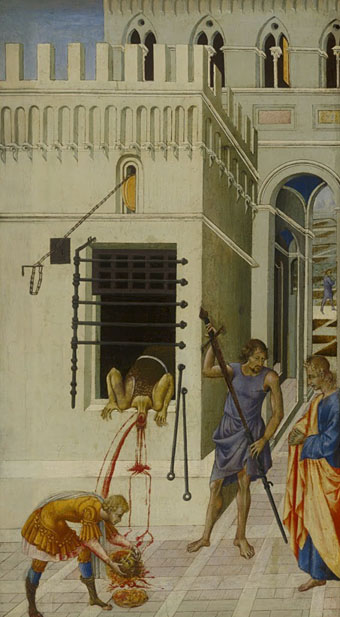 The Beheading of Saint John the Baptist (1455–60) by Giovanni di Paolo.
There are exceptions, however, and the nearer you move to Shakespeare's time the more examples you'll find. Paintings produced in an age when violent street executions were still a common sight would have seemed less surprising to their intended audience than they do to our eyes. Several of the paintings here provide a useful contrast with the many sanitised depictions of John the Baptist's severed head in the Salomé archive.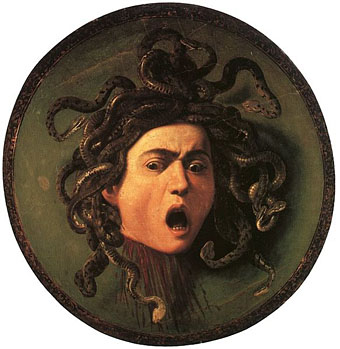 Medusa (c. 1590) by Caravaggio.
Of all the paintings of Medusa's head the one by Caravaggio is the sole example with a gout of spurting blood. It's also unusual for being painted on a convex panel intended to resemble the reflecting shield of the Gorgon's killer, Perseus. Given the violent life of the artist the gore isn't so surprising although the jet of red in his painting of Judith beheading Holofernes still seems shocking if you've never seen it before.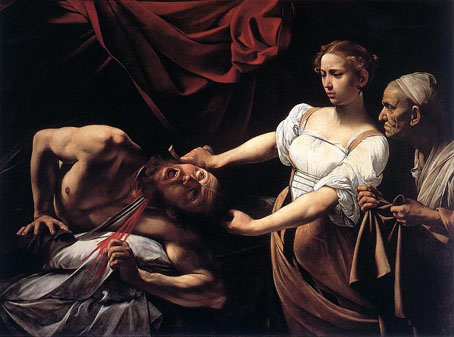 Judith Beheading Holofernes (1598–99) by Caravaggio.
The Biblical story of Judith and Holofernes may be the poor cousin to the more popular story of Salomé but depictions of the crucial event make an impression by being consistently gruesome. I suspect the reason is less to do with the story itself than with the success of Caravaggio's paintings among cultured Europeans. The copying or imitation of celebrated works became a thriving industry in the days of the Grand Tour with the result that 17th- and 18th-century art is overburdened with variations on earlier paintings.