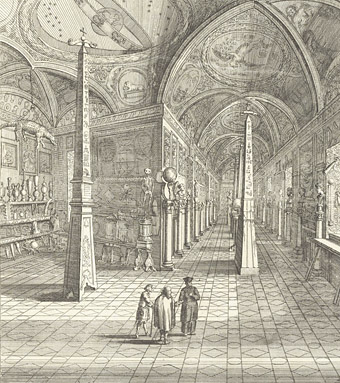 Athanasius Kircher welcoming two guests to the Collegio Romano, a detail from the frontispiece to his Romani Collegii Societatis Jesu Musaeum celeberrimum (1678).
• Opium (1919) by Robert Reinert: "A Chinese opium dealer takes revenge on Westerners who have corrupted his wife." With Werner Krauss and Conrad Veidt a year before their pairing in The Cabinet of Doctor Caligari.
• Aubrey Beardsley at Tate Britain: in which the gallery thinks that 7 minutes is enough to give us a taste of a major exhibition that we can't otherwise see.
• Joe Pulver (RIP): His Highness in Yellow. A memorial piece that includes artist Michael Hutter talking about his paintings of Carcosa.
• Court Mann on the strange history of Robert Smithson's Spiral Jetty, 50 years old this month.
• "Invisible Little Worms": Athanasius Kircher's Study of the Plague by John Glassie.
• Sophie Monks Kaufman on why literary lesbians are having a moment on screen.
• Photographer Ryan McGinley: "I was taught to believe in Satan. It scared me."
• At Dennis Cooper's: Ellen Burstyn Day, and the ghostly novels of WG Sebald.
• Dorian Lynskey on where to start with Nina Simone's back catalogue.
• Wie funktioniert ein Synthesizer? (1972). Bruno Spoerri explains.
• Banham avec Ballard: On style and violence by Mark Dorrian.
• John Boardley on the most dangerous book in the world.
• Improvisation for Sonic Cure by Ryuichi Sakamoto.
• The Strange World of…JG Thirlwell.
• Diet Of Worms (1979) by This Heat | Stomach Worm (1992) by Stereolab | Heartworms (1998) by Coil