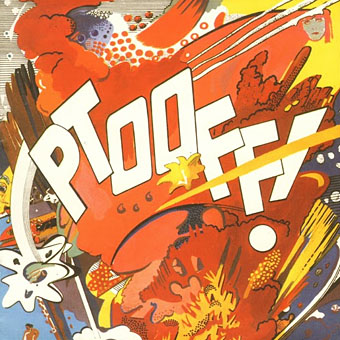 There's a sub-genre of the psychedelic album cover in which florid, unfocused and vividly polychrome doodles by friends of the band are used as the principal artwork. (The cover of The Parable Of Arable Land [1967] by The Red Crayola is a typical example.) The art which decorates the fold-out sleeve of Ptooff! (1967), the debut album by British group The Deviants, isn't quite in the doodle league but it treads a narrow divide between drug-addled scribbles and American comic-strip art à la Jack Kirby. Someone named "Kipps" receives the art credit. Viewed today the swirls and explosions on the sleeve's outer panels also seem to predict the graffiti art which would flourish a decade later.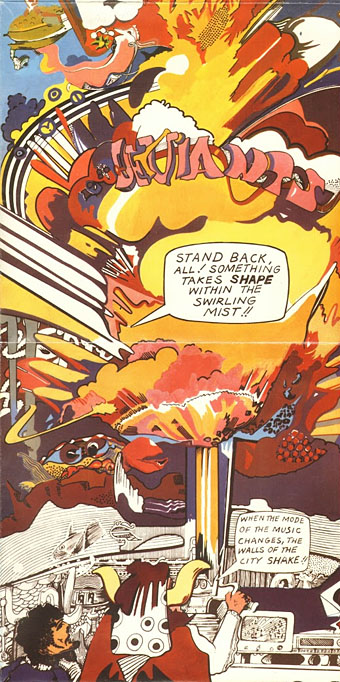 The Deviants were the first musical vehicle for writer and singer Mick Farren who died last week. At the time Farren was known as a journalist for International Times which explains the disembodied head of Theda Bara (from the paper's logo) floating in the top right-hand corner of the front cover. The lysergic wildness continues inside with an incoherent scene and the promise that "APSARAS—is an Epic forthcoming—a marvel of the Universe—an illustrated saga of a Godwoman. On sale soon." John Peel provided some sleeve notes. See the artwork at larger size here.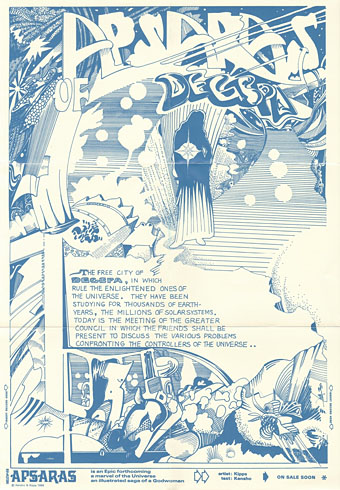 Charles Shaar Murray penned a memorial note for Mick Farren last week. My favourite track from Ptooff! is the opening song I'm Coming Home, a number that demonstrates the group's ability to combine humour with hard-rock freakout.
Elsewhere on { feuilleton }
• The album covers archive
Previously on { feuilleton }
• International Times archive