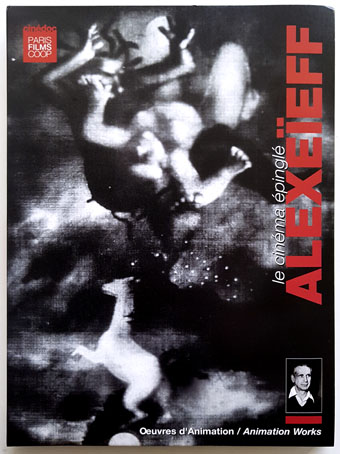 In yesterday's mail, the DVD collection of Alexandre Alexeieff and Claire Parker's animated films. I ordered this after watching the Norman McLaren film about the operation of the pinscreen, not realising that the same documentary is included here, together with a shorter film from 1960 that shows the pair creating still illustrations for an edition of Dr Zhivago. In addition to five pinscreen films by the couple there's also Mindscape (1976) by another pinscreen animator, Jacques Drouin, together with two reels of technical experiments.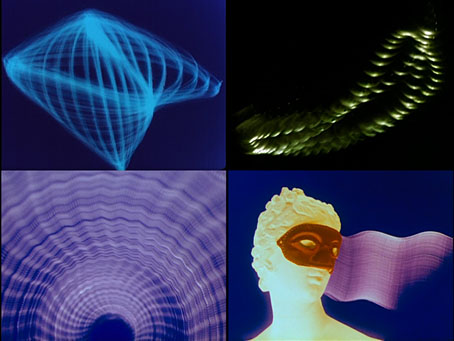 Most surprising of all is a lengthy collection of Alexeieff's advertising films from the 1930s. These were made for French products such as Evian water, Renault cars and Gauloises cigarettes, with all of them photographed in a pre-Technicolor single-strip process, Gasparcolor, whose limitations made it difficult to use for live action but ideal for animation. The films are also surprising for being much more traditional animations of physical objects, there's even a puppet adaptation of Sleeping Beauty. In the notes Alexeieff says:
We were the first to make colour films (Gasparcolor) in France, and immediately obtained a reputation for quality on the market. We established, I believe I am justified in saying, a class of films without precedent in this domain, and for which a certain number of progressive and powerful advertisers were ready to pay more and more… We made ourselves the champions of three-dimensional object animation. Into such one or two minutes film we decided to introduce, if only in one of its sequences, some sort of experiment, and never hesitated to invest time or money in inventions because an advertising film must strike by the novelty of its form.
The use of light and colour is indeed striking, especially when seen beside the monochrome pinscreen films, while some of the hazy, prismatic light effects are precursors of similar imagery being produced decades later by people like Jordan Belson. Alexeieff was too old to contribute to the psychedelic avant-garde but I wonder what he might have achieved if he'd been a generation younger.
Previously on { feuilleton }
• Animating the pinscreen
• The pinscreen works of Alexandre Alexeieff & Claire Parker
• The Nose, a film by Alexandre Alexeieff & Claire Parker
• Alexandre Alexeieff and Claire Parker