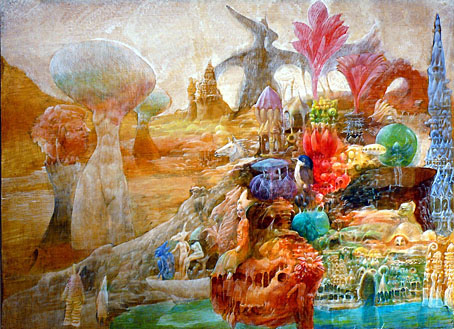 Threshold (2008) by Roku Sasaki.
• A previously unseen interview with Angela Carter from 1979 in which she talks to David Pringle about her evolution as a writer, literary influences and genre fiction.
• Among the highlights in the latest edition of Wormwood there's Doug Anderson on Panacea by Robert Aickman, a "vast unpublished philosophical work".
• The London Review Bookshop podcast: Marina Warner and Chloe Aridjis discuss Leonora Carrington.
The prose works, conversely, read like surrealist poetry. They were written according to a compositional method Roussel called le procédé (the procedure), in which a complicated system of puns rather than traditional narrative logic determines the progression of the story. In Locus Solus, the mad scientist Martial Canterel takes his colleagues on a tour of his country estate—"the lonely place" of the title—to show them the bizarre inventions generated by Roussel's procédé. These include a device that constructs a mosaic made out of human teeth; a water-filled diamond in which a dancer, a hairless cat, and the head of Danton are suspended; and a series of corpses Cantarel has brought back to life with the fluid "ressurectine," which compels them to act out the most important event of their former lives, to the scientists' astonishment.

Ryan Ruby on Raymond Roussel, The Accidental Avant-Gardist
• The latest manifestation of paranormal electronica by The Electric Pentacle is entitled Black Ectoplasm.
• Sergey Bessmertny's account of working as a camera technician on Andrei Tarkovsky's Stalker.
• City Of Fallen Angels: The Bug vs. Earth. In conversation with Kevin Martin and Dylan Carlson.
• Sex and art by the Grand Canal: Judith Mackrell on Peggy Guggenheim in Venice.
• A Guide Through the Darkened Passages of Dungeon Synth.
• Mix of the week: XLR8R Podcast 489 by Samuel Rohrer.
• The late Mika Vainio/Panasonic live in 1996.
• Xan Brooks on Cary Grant's 100 acid trips.
• Resurrection (1968) by Steppenwolf | Resurrection (1975) by Master Wilburn Burchette | Resurrection (1987) by Demons Of Negativity