Savoy • Savoy • Savoy: The first wave of book covers pinned to the Beardsley wallpaper of the Deansgate office.
I often feel I'm in a minority in never having been desperate to see my work in a gallery. We are, after all, living in the Age of Mechanical Reproduction (thanks, Walter), and the idea of having to visit a physical location in order to see a work of art can seem like a rather antiquated affair. (Plenty of arguments counter this, of course, but I don't create anything that needs to be experienced in situ, and I'm also not enmeshed in the art market.) So it's been surprising this month to realise that examples of my work are currently on display in Monterey, California (the Tentacles exhibition), London (Comics Unmasked: Art and Anarchy in the UK at the British Library which ends today) and in Manchester (The Exhibition Centre for the Use and Abuse of Books at the International Anthony Burgess Foundation). If all goes according to plan, some of my steampunk book covers will also be exhibited in Beijing next month; more about that later.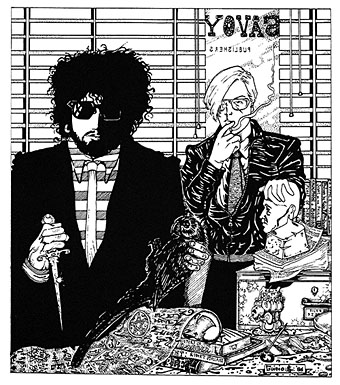 Britton & Butterworth by Kris Guidio (1986).
The Use and Abuse of Books is a necessarily brief overview of the 40-year history of Savoy Books, a notable moment in the life of the company since this is the first time any Manchester institution has acknowledged the existence of a local publisher with such a long, varied and often controversial history. In part this is a result of the cultural histories of Manchester concentrating almost exclusively on the music scene. Many of the books and features written about Manchester arts have been produced by DJs or ex-musicians who appear tone-deaf to literary culture despite the existence of Carcanet Press (established 1969), Savoy Books, and other more recent publishers who are happy to operate outside London. (The venerable Jon Savage gets a pass here.) Carping aside, The Use and Abuse of Books describes itself thus:
Featuring text, images and rare promotional content from Savoy's infamous 1989 publication Lord Horror, the exhibition tackles the question of whether the depiction and description of horrific acts is justified in satire. In 1992 Lord Horror was declared by Judge Gerrard Humphries as 'a glorification of racism and violence' whereas writer Michael Moorcock believed the book to belong to 'a tradition of lampoon, of exaggeration. Its purpose is to show up social evils, and the evils within ourselves.' Displaying artwork from Sinister Legends and Meng and Ecker alongside other panels from rare comics and graphic novels (including Reverbstorm), The Use and Abuse of Books also examines the relationship between text and imagery within Savoy's publications, revealing how artwork from John Coulthart, Kris Guidio and James Cawthorn supplements and enhances the storytelling through visual references to architecture, cultural figures or specific works of art. The exhibition will be open 10am–4pm weekdays and in the evenings during events from Friday 15th August until Friday 5th September. (more)
Some of my pages from Lord Horror: Reverbstorm have been printed large-size for the walls, and there's also a life-size cardboard figure of my Beardsley-style Lord Horror. Savoy publications past and present are on display, including some of my book designs. It's fitting that this should be taking place under the aegis of the Anthony Burgess Foundation; Burgess was a great Joycean and a champion of two Savoy favourites: William Burroughs and JG Ballard. I can't imagine him getting too enthusiastic about many of Savoy's publications but I'd hope he might have appreciated the spirit of Mancunian bloody-mindedness in which they were produced.