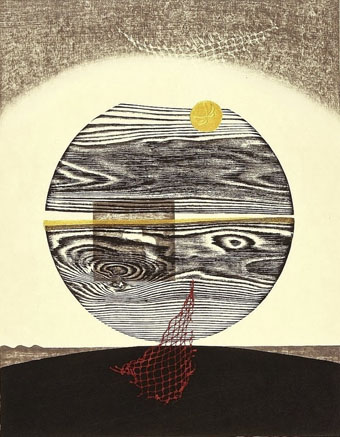 Mirror of Water (1981) by Reika Iwami.
• The week in comics: Paul Gravett interviews Enki Bilal. | Paul Kirchner's wordless and inventively surreal strip, The Bus, was republished in France last year but it's been out-of-print for years everywhere else. Read it online here. | Bill Watterson has made the entire run of Calvin and Hobbes available for free.
• "…seek and learn to recognize who and what, in the midst of the inferno, are not inferno, then make them endure, give them space." Leland de la Durantaye reviews Italo Calvino: Letters 1941–1985.
• Artist Charles Ross says "My interest in science is related to how mysterious it is." Ross Andersen visited Ross's Star Axis, "a masterpiece forty years in the making".
There is a satirical intent at work here, as well as mordant humour, a potent mix that reminds one more of the absurdist fictions of the French jazz musician Boris Vian than of anything in the SF canon. Science fiction is not central in Harrison's work – not even as a target of his sharp wit – and it is a mistake to regard him as being chiefly interested in demolishing a genre that is only one of several he has mastered.

John Gray on M. John Harrison's Kefahuchi Tract trilogy. This week Harrison posted a new piece of fiction on his blog.
• Mixes of the week: Secret Thirteen Mix 091 by Sugai Ken, and Bride of the Abominable Marshman, an early Halloween mix by Hackneymarshman.
• Clive Hicks-Jenkins on Schandmasken (masks of shame), and the clay visage of Paul Wegener's Golem.
• A version of Kraftwerk's Trans Europe Express by Chicago band Disappears.
• Postcards to the Curious: MR James-themed artwork by Alisdair Wood.
• Clive Barker: Why I Once Gave Up Horror Movies Entirely.
• Artist Melinda Gebbie at Phantasmaphile.
• Fragment, a new video from Emptyset.
• 38 photos of airships through the ages.
• This Much I Know: Kenneth Anger.
• Trans Europe Express (2000) by Señor Coconut Y Su Conjunto | Trans Europe Express (2007) by Receptors | Trans Europe Express (2012) by Daniel Mantey