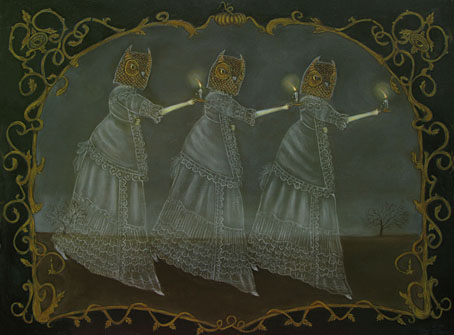 Three Seekers (2009) by Kelly Louise Judd.
• Kevin Sessums talked to Elizabeth Taylor in 1997 about Tennessee Williams, her AIDS activism and related matters. Other related matters: Catholics lead the way on same-sex marriage and Mahatma Gandhi was in love with a German body-builder named Hermann.
• Cray porn (the computer, that is) at Barnbrook Design as the CD package for Interplay by John Foxx and The Maths is unveiled.
• Michael Rother and Friends Play the Music Of Neu! A stream of an hour-long concert from August 2010.
One of the tragedies of drug prohibition is that we have never developed a culture in which young people can learn how to use powerful drugs properly from older, wiser and more experienced psychonauts. I count myself lucky to have encountered such good teachers to guide me with such drugs as LSD, psilocybin, DMT, MDMA and mescaline.

Dr Susan Blackmore on using LSD.
• Another Dispatch in a World of Multiple Veils, a new release by Arkhonia.
• Micromachina by Scott Bain "examines what makes the insect world tick".
• Down with art!: the age of manifestos. Related: The Manifesto Manifesto.
• John Patterson: "We're all living in the future as seen by Philip K Dick."
• Music To Play In The Dark: A Wake For Peter 'Sleazy' Christopherson.
• Albert Einstein, Radical: A Political Profile.
• Was "God's Wife" edited out of the Bible?
• Porn made for women, by women.
• Hallogallo (1972) by Neu! | Opa-Loka (1975) by Hawkwind | Jenny Ondioline (1993) by Stereolab | Hallogallo (1997) by Porcupine Tree.