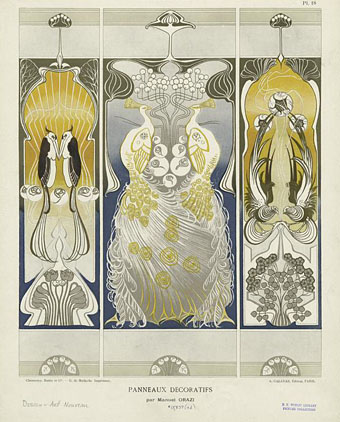 Panneaux decoratifs (1900) by Manuel Orazi at NYPL.
• Ghostsigns: "a collaborative national effort to photograph, research and archive the remaining examples of hand painted wall advertising in the UK and Ireland."
• Golden Age Comic Book Stories posts some Alphonse Mucha.
• Voyage Fantastique – An illustrated guide to the body and mind at A Journey Round My Skull.
• The gallery of the International Exhibition of Calligraphy.
• Trevor Wayne Pin-Up Show, a new photo collection of the tattooed Mr Wayne which includes photos and a foreword by Clive Barker.
• Phallophonies, a gallery exploring the penis in religious art. Related: "Churchgoers are outraged over a crucifix in a Catholic church that they say shows an image of genitalia on Jesus."
• Hollingsville: "Expect live and unscripted wanderings around voodoo science parks, examinations of cities as battle suits and thoughts on pods, capsules and world expos."
• Phantom Circuit #33 is a Ghost Box special featuring an interview with Jim Jupp (Belbury Poly) and Julian House (The Focus Group). Related: Ghost Box films at YouTube.
• Eldritchtronica and Wyrd Bliss, a mixtape by Simon Reynolds.
• Avant garde music and cinema meet at The Sound of Eye.
• Make your own newspaper with Newspaper Club.
• Drawdio: A pencil that lets you draw music.
• Yoko Ono collects rare books.
• Song of the week: The Four Horsemen (1972) by Aphrodite's Child.