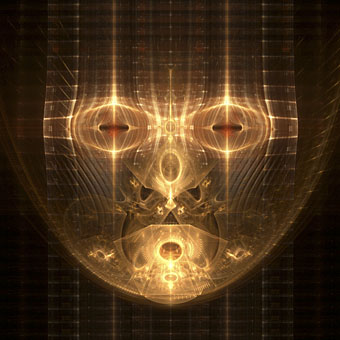 Gold Head 2 (2011) by Kouji Oshiro.
• Josef Hartwig's 1922 Bauhaus chess set. Contemporary copies can be bought from Naef Spiele but they're not cheap. Related: Bauhaus: Art as Life, a major exhibition at the Barbican, London. Related, related: Art as life by Fiona MacCarthy.
• Rattera is a new font by Barnbrook Design for Fuse 1–20, Taschen's collection of the experimental typography publication. Related: The Fuse poster explained.
• Genesis (1981), video feedback and computer animation by Ron Hays with an electronic score by Ragnar Grippe.
• Deadly Doris, a recording by Malcolm Mooney-era Can from the forthcoming Lost Tapes collection.
• "How did a pop band end up in a museum" Sasha Frere-Jones on Kraftwerk.
• Philip Glass & Robert Wilson on how they made Einstein on the Beach.
• An astonishing aerial photo of post-quake San Francisco in 1906.
• More electronic music: Buddha Machine's SoundCloud page.
• My Baby, music and video from Julia Holter & Jib Kidder.
• Homotography's photos can now be browsed at Pinterest.
• Deviates, Inc., a Tumblr.
• Raoul Björkenheim live: Apocalypso pt. 1 | Apocalypso pt. 2 | 1-2-11 DMG, NYC