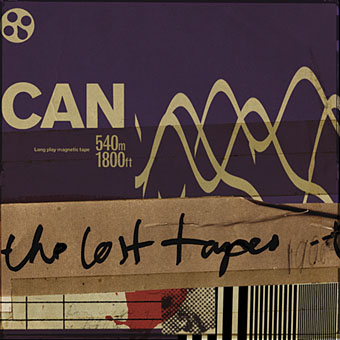 Design by Julian House.
"Tapes", that's the crucial word. For the past twenty-four hours I've been immersed in The Lost Tapes, the triple-disc collection of previously unreleased recordings by the mighty Can, and contemplating the importance of tape to the German music scene (Krautrock, if you must) of the 1970s. Can performed live throughout their career but their reputation is based on their recorded output. One reason why not only Can but also Faust and Kraftwerk were able to spend so much time creating unprecedented music was because they all had their own studios. These were doubtless primitive—Can's was famously housed in a disused cinema—but the ability to experiment with recording free from the escalating costs of a professional studio gave them an advantage that few of their British or American contemporaries possessed. Can's process wasn't so very different from that employed by The Beatles and Miles Davis: play or improvise for hours then rely on talented editors (George Martin and Teo Macero respectively) to structure the music. Can's Teo Macero figure was Holger Czukay whose advanced skills as a tape collagist were evident pre-Can on his Canaxis album.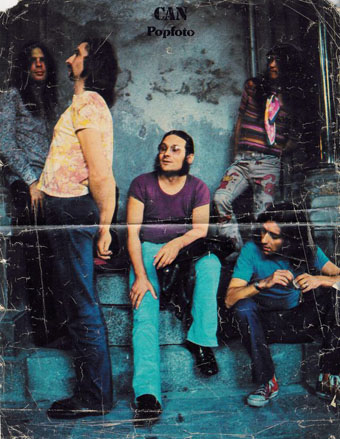 Can-heads have known all this for years, of course, you get to see some of the rudiments of the process in the archive footage on the 2003 DVD documentary. And knowing this always begged the obvious question: where's all the unreleased tape? The Lost Tapes finally answers that question, it was in a vault in disarray. The booklet notes detail the sifting process that eventually culled three CDs from 50 hours of material. What's great about this is that it's all so much better than I expected (this was already evident from the preview tracks that Mute have been releasing). Many hardcore Can collectors will have heard the Canobits bootlegs that contain a mix of rudimentary tracks, long jams and live recordings, all of which are worthwhile but which mostly fail to match the quality of the Lost Tapes material. In addition to hearing preliminary pieces from Vitamin C and Sing Swan Song there are more of the band's recordings for obscure film and TV, and some stunning live moments from the period around 1972 when they were really at their peak. I never expected there to be as much from the Malcolm Mooney period as there is here. Nice packaging too by Julian House in his day job as a designer at Intro: three discs in a ten-inch box with a booklet filled with the customary House collage business. This is an essential purchase for any Can enthusiast, but it's also essential listening for anyone fascinated by the extraordinary music that erupted in Germany in the early 1970s.
Previously on { feuilleton }
• A cluster of Cluster