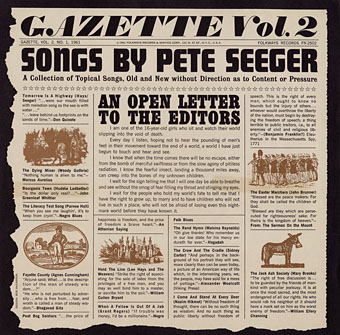 Gazette Vol. 2 (1961) by Pete Seeger.
More elaborate record sleeve design. Was Pete Seeger the first artist to have a fake newspaper as a cover design? Gazette Vol. 2 is the earliest example I can find. Some of these examples were suggested by this earlier overview. If anyone knows of any omissions then please leave a comment.
Newspaper covers offered understandable attractions to a musician: a vinyl sleeve is almost the same width as a newspaper, and, for the more verbose artist, they give an opportunity to wax satirical at the expense of print media and newspaper readers. Disadvantages would include increased production costs, more design and copywriting, and sleeves that don't always last very long, especially if actual newsprint is used for the paper. Given the recent resurgence of vinyl I wouldn't be surprised if we soon see further examples of this kind of design.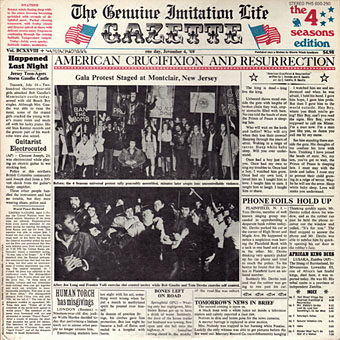 The Genuine Imitation Life Gazette (1968) by The 4 Seasons. Design: Desmond Strobel.

The 4 Seasons album is a surprise since it's not so well-known yet features a very detailed newspaper sleeve. An 8-page insert continues the theme, and even includes a colour comic strip.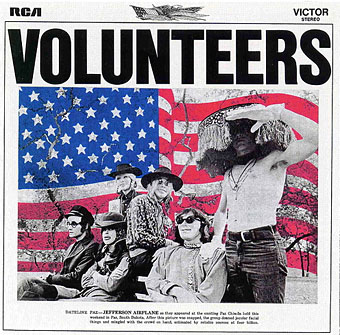 Volunteers (1969) by Jefferson Airplane. Design: Gut (Allen Turk).

Did Jefferson Airplane copy the 4 Seasons album? Seeing the progression of these designs you have to wonder who was imitating who. The Airplane album also had an insert with more newspaper pages.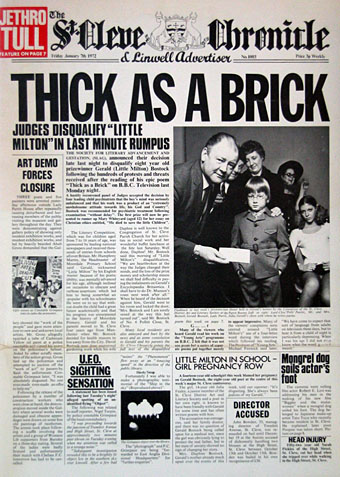 Thick As A Brick (1972) by Jethro Tull.
Jethro Tull went further than everyone by making their album a 12-page newspaper which wraps around the vinyl. The content of the pages is filled with a satirical jab at concept albums and numerous in-jokes. Even if you don't like the band's music very much (I've never been keen) you have to admire the amount of work that went into this.