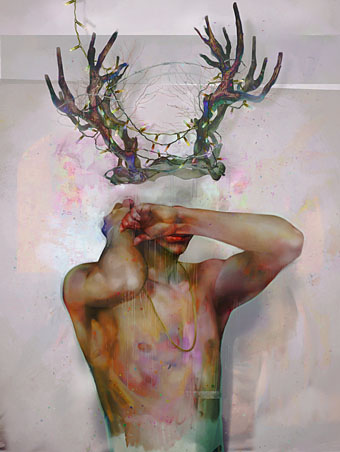 Untitled (2011) by YDK Morimoe. Via Jim Post at Dennis Cooper's.
• For The Climax Of The Night by Total Leatherette is almost certainly the only album you'll see this year with autofellatio cover art. Faux Fox gives a taste of the new album, while an earlier piece, Squeeze Hunk, features a Tom of Finland-style video. And speaking of which, Dome Karukoski's feature film, Tom of Finland, is released in the UK this week. Related: Tom of Finland coffee.
• The death of playwright Joe Orton in 1967 prompted yet more 50th anniversary articles this week. Mentioned here before, and better value than all the textual appraisal, is the BBC's 70-minute TV documentary from 1982, A Genius Like Us: A Portrait of Joe Orton, which includes interviews with family, friends, colleagues and Orton's biographer, John Lahr.
• Two skulls, 50,000 postcards and a book that took 50 years to finish: Stuart Jeffries visits artist Tom Phillips.
• New at the Internet Archive: 25,000 78RPM records. You can never go wrong with Duke Ellington.
• Lock Your Door and The Reformation of St. Jules: Algernon Blackwood filmed in 1949.
• Redemption, an exhibition of art by Fay Pomerance (1912–2001) at Ushaw College, Durham.
• At Dirge Magazine: Daniel Pietersen on the myth of the sunken city.
• Mix of the week: FACT Mix 613 by Aaron Dilloway.
• Laetitia Sadier's favourite albums.
• RIP Hywel Bennett
• Sunken City (1961) by Les Baxter | Ys (1971) by Alan Stivell | Atlantis (1971) by Deuter