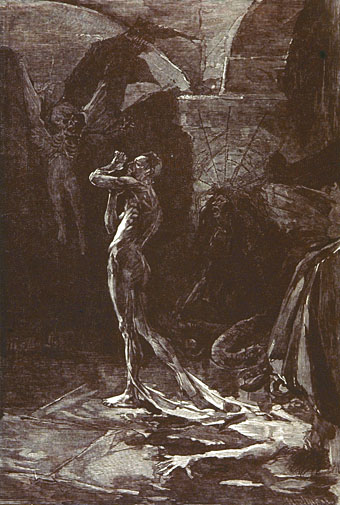 This illustration by José Roy is a frontispiece created for a rare edition of Les Chants de Maldoror published by Genonceaux in 1890. Roy (1860–1924) was a French artist whose work receives little attention today but his Maldoror illustration happens to be the first of its kind, and a picture that serves the text better than some of those being produced a few years later. The detail of a flayed man stepping out of his skin prefigures Clive Barker by almost a century, a further example of the ways in which Lautréamont's baleful masterpiece was ahead of his time.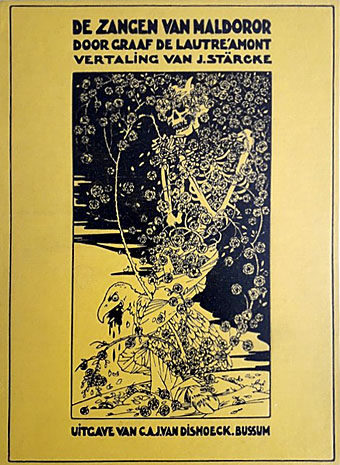 Netherlands, 1917. Cover art by WF Gouwe.
Previous posts here have concerned illustrated editions of Maldoror but this one is all about the covers. Literary classics aren't always very rewarding in this respect but Maldoror's textual and imaginative wildness has prompted an assortment of illustrative choices that range from the appropriate to the bewilderingly arbitrary. The following covers are a selection of the more notable examples, avoiding those without pictures or ones that use photographs of the book's enigmatic author, Isidore Ducasse.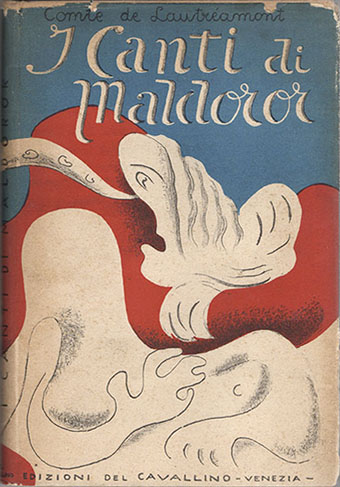 Italy, 1944. Cover art by Mario De Luigi.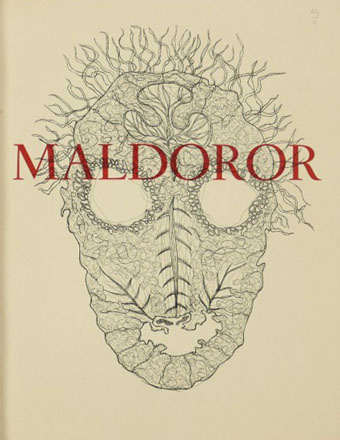 France, 1947. Cover and interior illustrations by Jacques Houplain.
Salvador Dalí was the first well-known artist to illustrate Maldoror but his 1934 edition was published with plain black boards. Houplain's illustrations follow the text more closely than do those by Dalí, Magritte or Bellmer, all of whom remain preoccupied with their own obsessions.
Belgium, 1948. Cover and interior illustrations by René Magritte.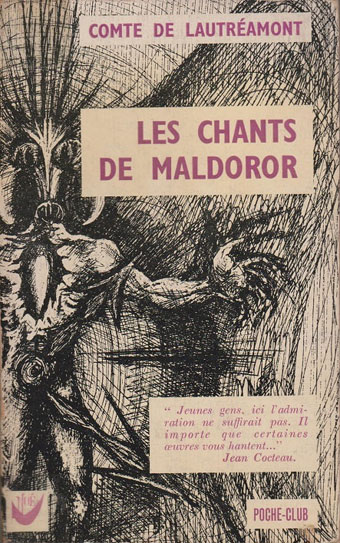 France, 1963. Cover art by Paul Jamotte.
USA, 1965. Cover art by Marino Marini.
France, 1967. Cover and interior design by Pierre Faucheux.
Denmark, 1968. Cover art by Salvador Dalí.
France, 1969. Cover art: Ship and the Red Sun (1925) by Wassily Kandinsky.
The first of two random covers from Flammarion. Why Kandinsky, and why this particular painting?
UK, 1970. Design by Clara Scremini. Cover art: Astaroth by Louis Le Breton from the Dictionnaire Infernal (1863).
One of my own copies, and the first publication of Alexis Lykiard's translation. This edition includes several pages of notes which testify to the translation difficulties presented by Maldoror's puns and allusions. The demon from Collin de Plancy's infernal dictionary is an apt choice, especially when the illustrated edition of de Plancy's book was published while Isidore Ducasse was still alive.
France, 1971. Cover art and interior illustrations by Hans Bellmer.
USA, 1972. Cover art: Eye (1946) by MC Escher.
Germany, 1976. Cover art and interior illustrations by Georg Baselitz.
France, 1976. Cover art: The Chariot of Apollo (c.1914) by Odilon Redon.
Kandinsky was a strange choice but this one seems wilfully perverse when so many of Redon's prints could be used as effective cover illustrations.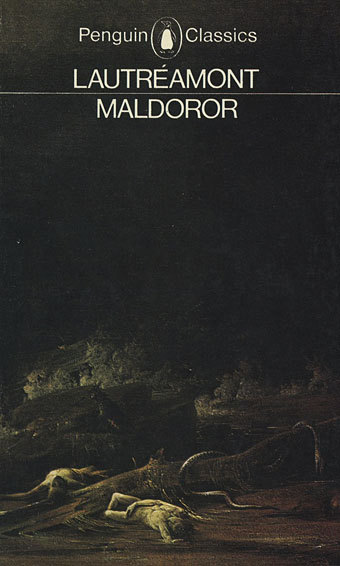 UK, 1978. Cover art: Detail from The Deluge towards its Close (c.1813) by Joshua Shaw.
Spain, 1982. Cover art: Letter M from Dream Alphabet (c.1683) by Giuseppe Maria Mitelli.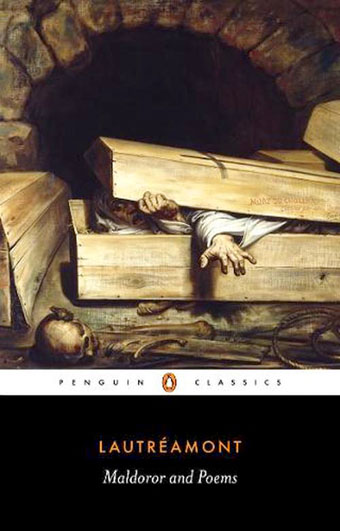 UK, 1988. Cover art: Detail from The Premature Burial (1854) by Antoine Wiertz.
UK, 1998. Cover art: The Salon of Baron Gros (1850–57) photographed by Jean-Baptiste Louis Gros.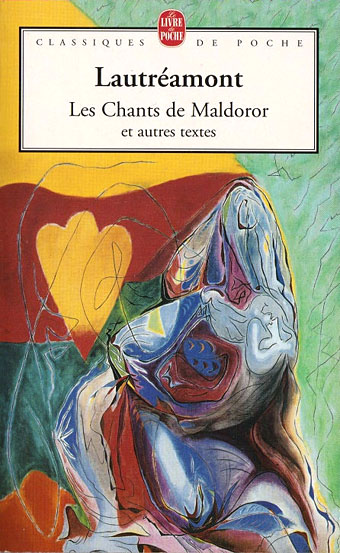 France, 2001. Cover art: Niobé (1947) by André Masson.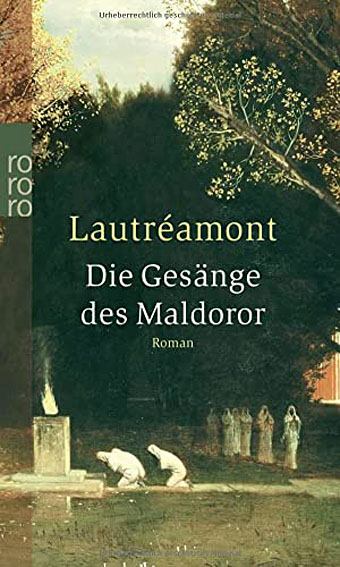 Germany, 2004. Cover art: Detail from The Sacred Wood (1882) by Arnold Böcklin.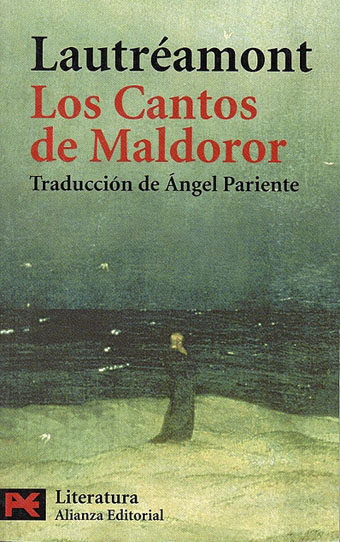 Spain, 2009. Cover art: Detail from The Monk by the Sea (1808–10) by Caspar David Friedrich.
UK, 2011. Cover and interior illustrations by Salvador Dalí.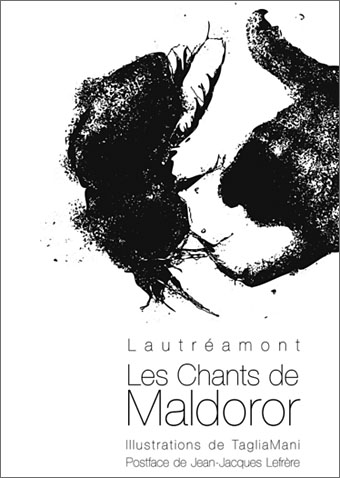 France, 2012. Cover and interior illustrations by TagliaMani.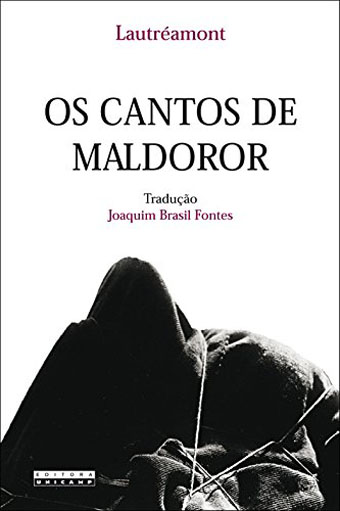 Argentina, 2015. Cover art: The Enigma of Isidore Ducasse (1920) by Man Ray.
Spain, 2016. Cover and interior illustrations by Santiago Caruso.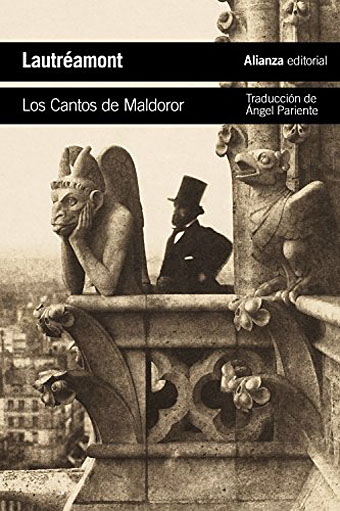 Spain, 2017. Cover art: Henri Le Secq near the 'Stryge' chimera (1853) photographed by Charles Nègre.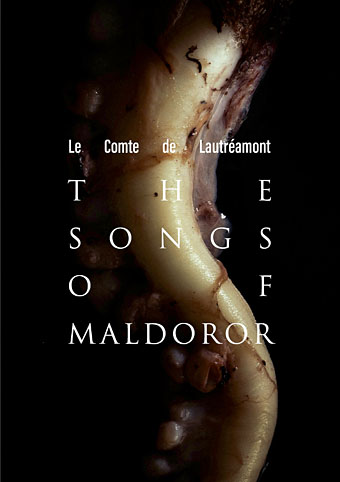 UK, 2022. Cover and interior illustrations by Karolina Urbaniak.
Elsewhere on { feuilleton }
• The book covers archive
Previously on { feuilleton }
• Kenneth Anger's Maldoror
• Chance encounters on the dissecting table
• Santiago Caruso's Maldoror
• Jacques Houplain's Maldoror
• Hans Bellmer's Maldoror
• Les Chants de Maldoror by Shuji Terayama
• Polypodes
• Ulysses versus Maldoror
• Maldoror
• Books of blood
• Magritte's Maldoror
• Frans De Geetere's illustrated Maldoror
• Maldoror illustrated