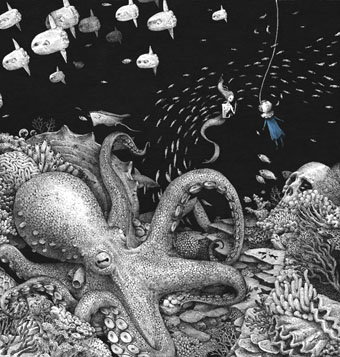 The Blue Girl (2013) by Sungwon.
• "Meanwhile, in her parents' room [Max] Ernst painted aardvarks eating ants and big human hands around the windows. 'Sexual connotations, I think,' she says shyly." Agnès Poirier talks to Cécile Eluard about her childhood among the Surrealists.
• "Thrilling and prophetic": why film-maker Chris Marker's radical images influenced so many artists. Sukhdev Sandhu, William Gibson, Mark Romanek and Joanna Hogg on the elusive director.
• At Dangerous Minds: Throbbing Gristle live in Manchester in 1980, and Brian Butler talks about the rediscovered early print of Kenneth Anger's Lucifer Rising. There's a trailer!
• From 1981: The Art of Fiction No. 69 at The Paris Review, an interview with Gabriel García Márquez. Related: Thomas Pynchon reviewed Love in the Time of Cholera in 1988.
• "Seven years ago, a stolen first edition of Borges's early poems was returned to Argentina's National Library. But was it the right copy?" Graciela Mochkofsky investigates.
• "What was Walter Benjamin doing with his shirt off in Ibiza?" Peter E. Gordon reviews Walter Benjamin: A Critical Life by Howard Eiland & Michael W. Jennings.
• A video by Marcel Weber for Måtinden, a track from Eric Holm's Andøya album. Another album on the Subtext label that I helped design.
• More Ian Miller: Boing Boing has pages from his new book, The Art of Ian Miller, and there's an interview at Sci-Fi-O-Rama.
• Outrun Europa, a free compilation of 80s-style electronic music. There's a lot more along those lines here.
• Praise Be! Favourite religious and spiritual records chose by writers at The Quietus.
• Ralph Steadman illustrated Alice's Adventures in Wonderland in 1973.
• British Pathé is uploading 85,000 of its newsreel films to YouTube.
• Drawings by Lebbeus Woods at The Drawing Center, New York.
• At Pinterest: Ian Miller and Kenneth Anger.
• Lucifer Sam (1967) by Pink Floyd | The Surrealist Waltz (1967) by Pearls Before Swine | Which Dreamed It (1968) by Boeing Duveen And The Beautiful Soup